'The Beatles: Eight Days a Week' streaming on HULU
Category:
Television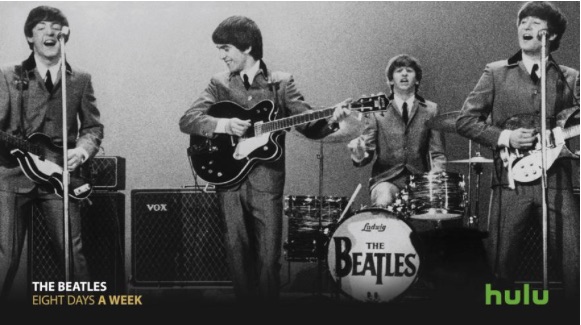 There was no way of predicting the lasting impact. Four unassuming lads from Liverpool stepped up to mike on The Ed Sullivan Show at 8:12 p.m. on Feb. 9, 1964 and literally sparked a musical revolution with the first chores of I Want to Hold Your Hand.   Some 73 million television viewers witnessed the birth of Beatlemania that fateful night.
Yet there was a price to be paid. Within the span of four years, The Beatles performed 815 times in 15 different countries and 90 cities throughout the world, but unlike many groups that came before and after, The Beatles collectively knew when it was time to step away from the marathon concert schedule and concentrate solely on the creative process. As Paul McCartney recalled, "In the beginning things were really simple By the end it became quite complicated."
In choosing to reinvent, evolve and survive, their subsequent work in the studio gave vent to many of their most memorable songs – All You Need is Love, Sgt. Pepper's Lonely Hearts Club Band, Penny Lane, and Strawberry Fields.
For Baby Boomers, who want to relive those treasured memories, or millenniums, who know ever lyric of their brilliant music catalogue, but little of the members' personalities, Academy Award winning director Ron Howard recounts the story of the inner workings of those exceptional touring years, underscoring the band's unique musical gifts and their remarkable, complementary personalities in the insightful but hardly trail blazing documentary The Beatles: Eight Days a Week.
Drawing from more than 100 hours of rare and unseen footage collected from fans, news outlets, national archives, as well as the Beatles' private collections, this material is coupled with in depth interviews with surviving Beatles' members McCartney and Ringo Starr.
As a traditional purveyor of feel good nonfiction and proficient storyteller, Howard does make one misstep by interspersing a number of talking head segments with Whoopi Goldberg, Elvis Costello, Larry Kane, and Dr. Kitty Oliver among others. Cute in themselves, the story of Goldberg's mother surprising her with a pair of Beatles' Shea Stadium tickets lends little to the storyline.
A musical gem on its own merits, the film includes 12 full and partial performances that have been recut, re-mastered in high-definition and 5.1 surround sound. Included in the collection is their final roof top rendition at Apple Studios of Don't Let Me Down, lifted from what turned out to be the album Let It Be.
Stevie Van Zandt's Rock and Roll Forever Foundation hosted the New York premiere of Ron Howard's documentary. For several years this non-profit group, founded by Bruce Springsteen and Van Zandt has been offering extensive educational materials free-of-charge to middle and high school teachers interested in taking their students on a historical exploration of popular music. It will be launching a nationwide educational effort focused on the Beatles film. Those materials will join more than 70 preexisting multi-media lesson plans on the Website.
In addition to the materials offered at no cost to teachers at RRFF's teachrock.org Website, Scholastic, Inc. will host a national webcast on Oct. 19th, moderated by Whoopi Goldberg, with Van Zandt and special guests speaking to students nationwide about the Beatles and their lasting impact.
Enjoying a brief theatrical run earlier this month, The Beatles: Eight Days a Week" can presently be seen Hulu, which the streaming channel is using to launch its Hulu Documentary Films division.
About the Author
Winnie Bonelli is a former entertainment editor for a daily metropolitan New York City area newspaper. She is passionate about movies and television and loves to take readers behind the scenes.