The Good Witch's Wonder on Hallmark Channel
Category:
Television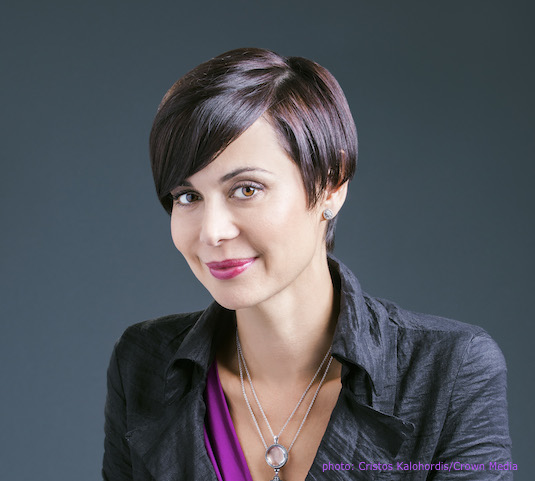 Catherine Bell is back as Cassie Nightingale in this newest edition of The Good Witch movies. This time in The Good Witch's Wonder, Cassie is busy with many things around town and still manages to help everyone with her special brand of magic.
For normal people, what is about to happen would be overwhelming, but for Cassie, well, she has her special way of staying calm and knowing that whatever happens is meant to be.
With Cassie's term as Mayor of Middleton over, the new mayor, Martha Tinsdale (Catherine Disher), has big plans for the city. Namely, she wants a botanical garden complete with a picturesque fountain. But she has to find a way to pay for it. And Cassie's stepson Brandon (Matthew Knight) returns to town and informs everyone that he and his fiancé Tara (Ashley Leggat) are going to be married in just a few days, instead of a few months. Brandon's sister Lori (Hannah Endicott-Douglas) is worried she won't have a date for her brother's wedding. Martha is starting to meddle in the police department to the chagrin of the chief, Cassie's husband Jake (Chris Potter), and Jake's father is concerned that his granddaughter Grace's education is lacking. Now, add to the mix Audrey (Rachel Wilson), the new assistant Cassie hired at Bell, Book, and Candle, and you have the cast of characters in this newest Good Witch story.
Things are going pretty well, even though there is a lot of activity in town. Then, with all the preparations for the wedding, Cassie puts Audrey in charge of the items for Martha's silent auction, which is supposed to raise the much-needed funds for the Botanical garden. That's when Middleton gets turned upside down.
In the meantime, Cassie's subtle words magically help everyone, including Lori, who has no idea that her future boyfriend is right in front of her. Those viewers who know Cassie Nightingale know she is filled with mystery and amazing wisdom.
With her special brand of charm and insight, Cassie manages to put everyone in the right place at the right time. And, as usual, Middleton comes out of all these events without a dent.
Catherine Bell is perfect as Cassie. She has played this role in all seven films in this popular franchise: The Good Witch (2008), The Good Witch's Garden (2009), The Good Witch's Gift (2010), The Good Witch's Family (2011), The Good Witch's Charm (2012), The Good Witch's Destiny (2013), and The Good Witch's Wonder (2014). Somehow, whenever Cassie is around, things always turn out all right.
This newest film in the franchise has all the charm, wonder, and magic as the others. And, even though viewers know with Cassie around everything will turn out all right, there is still something sweet and comfortable about watching the events play out on screen. Cassie's subtleness is the key to everything.
And Cassie Nightingale will entertain fans of the films more than once a year. Beginning in February 2015, The Good Witch will be a weekly series starring Catherine Bell in the title role with Bailee Madison stepping in the part of Cassie's daughter. There is a lot of fun, magic, and whimsy coming to weekly television very soon.
In the meantime, The Good Witch's Wonder premiers Saturday, October 25, 2014 on Hallmark Channel.
About the Author
Francine Brokaw has been covering all aspects of the entertainment business for 20 years. She also writes about technology and has been a travel writer for the past 12 years. She has been published in national and international newspapers and magazines as well as internet websites. She has written her own book, Beyond the Red Carpet The World of Entertainment Journalists, from Sourced Media Books.
Follow her on Twitter
Like her on Facebook