'The Powerpuff Girls: The Last Donnycorn' DVD GIVEAWAY
Category:
Giveaways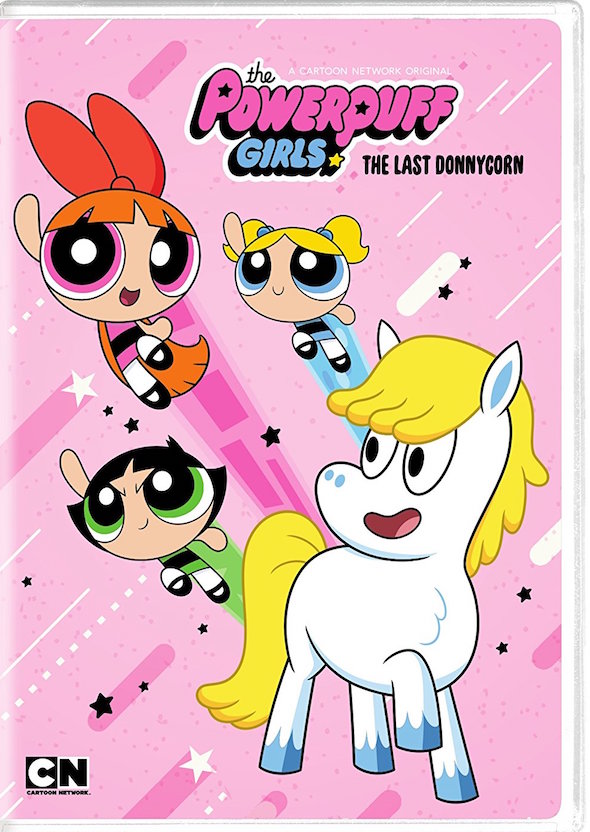 One of Townsville's most magical citizens, Donny the Unicorn is the star of Cartoon Network's DVD release of The Powerpuff Girls: The Last Donnycorn, available in stores August 15, 2017. Join pint-sized superhero sisters Blossom, Bubbles and Buttercup in this must-own DVD release that features 12 butt-kicking episodes from the Emmy®-nominated hit series' first and second season. The DVD includes the half-hour special, The Last Donnycorn, the Emmy® Award nominated episode Once Upon a Townsville, and bonus content, including five The Powerpuff Girls minis odes.
Once again, the day is saved by the cutest, evil-busting crime fighters, the Powerpuff Girls! Blossom, Bubbles and Buttercup take on all types of troublemakers, from ferocious fortune-tellers to yucky yetis and of course mixed-up monkeys named Mojo Jojo. Luckily for the city of Townsville, the three sisters always manage to tap into the power of teamwork to topple evildoers.
Cartoon Network's The Powerpuff Girls brings the adorable superhero sisters back with 12-action-packed episodes on one great DVD. This release includes the 30-minute special The Last Donnycorn, in which Donny comes to the girls for protection when he's hunted by a robotic unicorn. After narrowly escaping, he reveals that he's accidently unleashed evil unicorns that were trapped inside of a magic mirror upon Unicorn Land and needs the girls' help to save his dimension. Get set for punch-outs and plenty of crime-stopping heroics! Juggling school, homework and a regular parade of villains is no easy task, but the Powerpuff Girls are more than up to the challenge.
We have some DVDs to giveaway.
To be eligible to win a copy of Amazing Water, email us at [email protected] with "Amazing Water Giveaway" in the title. Please supply your name, address, phone number and email address (so we can let you know if you are a winner).
The deadline for this giveaway is August 12, 2017.