'The Prisoner of Second Avenue' now on Blu-ray
Category:
Blu-ray's and DVD's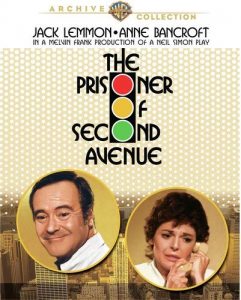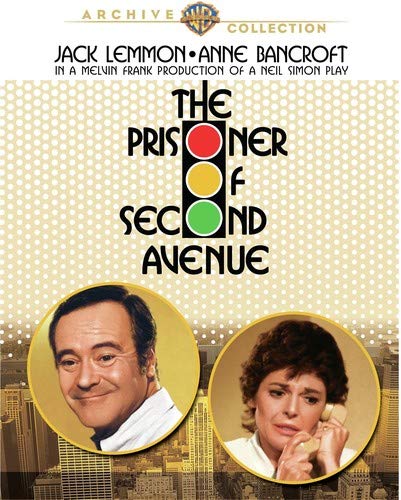 The Prisoner of Second Avenue was written by and taken from the play by Neil Simon. This 1975 film stars Jack Lemmon and Anne Bancroft as a married middle-aged couple living in New York City.
It's a tough world and the economy is taking a beating. Mel Edison (Lemmon) has been a loyal employee for 22 years but even that couldn't stay off his dismissal from his job. Edna (Bancroft) goes back to work but her job doesn't last too long so they find themselves in a financial bind. Not only are they dealing with unemployment, they also must deal with their noisy neighbors and the stench and noise emanating from the ground when they open up their balcony door. Even though they live in a high rise, they still smell the garbage from the street.
When their apartment gets burgled, that's the last straw.
Mel has a nervous breakdown and must be sedated. This also puts a crimp in their marriage, however Edna remains a loyal and loving wife.
Look for a very young Sylvester Stallone as a young man in Central Park whom Mel thinks stole his wallet. John Ritter also has a small part.
To say that everything goes wrong for this couple is an understatement. The world is closing in on them. But they refuse to give in or give up. Mel insists they will not let the city win!
While there are some humorous scenes, this is not one of Simon's best stories. It's a stark look at the realities of life. While it is described as a dark comedy, it is more drama than comedy. But Simon still fills it with great dialogue. And Lemmon was an actor that could play both comedy and drama with equal perfection. It's a joy to watch him doing either and in this film it is fun to watch him slowly lose his sanity while dealing with the trials and tribulations of life in the big city.
The bonus is a "making of" featurette.
The Prisoner of Second Avenue is rated PG and is now available on Blu-ray from the Warner Archive Collection. It can purchase at their website or online retailers where DVDs and Blu-rays are sold.
About the Author
Francine Brokaw has been covering all aspects of the entertainment industry for over 25 years. She also writes about products and travel. She has been published in national and international newspapers and magazines as well as Internet websites. She has written her own book, Beyond the Red Carpet The World of Entertainment Journalists, from Sourced Media Books, is the entertainment correspondent for Good Day Orange County, and has her own TV show, Beyond the Red Carpet, on Village Television in Orange County.
Follow her on Twitter