'The Seagull' takes Chekhov's play from the stage to the screen
Category:
Movies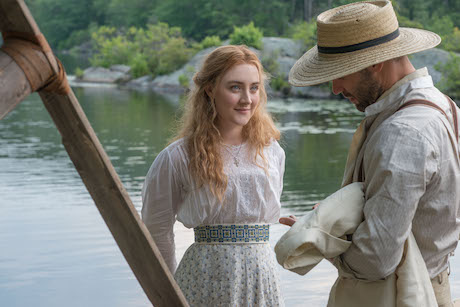 Anton Chekov's beloved play The Seagull is now a motion picture with an amazing cast. Annette Bening, Saoirse Ronan, Corey Stoll, Billy Howle, Elisabeth Moss, Mare Winningham, Brian Dennehy, Glenn Fleshler) and Jon Tenney join together to bring a cast of dysfunctional characters to the big screen. A weekend in the Russian countryside estate turns into a cathartic session of life, love, and family dynamics.
Sorin (Dennehy), a retired government employee, and his sister Irina (Bening), a famous Moscow actress, entertain their friends while everyone is coming to terms with their age and unrequited love. Irina is a conceited, selfish woman who is not the typical mother to her son Konstantin (Howle), and flaunts her younger lover Boris (Stoll), a famous writer. Konstantin desires to be a writer, but is ridiculed at every turn by his mother.
The estate is managed by Shamrayev (Fleshler) and his wife Polina (Winningham) with their daughter Masha (Moss) helping out. Masha is truly in love with Konstantin but knows he has no feelings for her. Deeply depressed with her life, this young woman dresses in black as a symbol of mourning – for her life – and medicates herself with drugs and alcohol.
The object of Mahsa's affection, Konstantin, is in love with Nina (Ronan), who wants to be an actress like his mother. Nina is a self-serving woman who will jump at any chance to further her career. During this weekend she falls in love with Boris. It's as though the audience needs a map to connect the interpersonal relationships of this very dysfunctional group of people.
The story is rich with drama with plenty of humor relieving the tragedy of the situations.
Chekhov (1860–1904) is highly regarded for his probing stories of people and life's situations. The Seagull was written in 1895 and the stories are still interesting and beguiling today. The play has been performed around the world to rave reviews.
Bening played Irina when she was a student at the American Conservatory Theater. "Irina is a passionate woman who is trying to get every last drop out of life that she possibly can," she says. "She's always trying to move toward joy and love and connection, but she doesn't always get there. I sense that she didn't achieve the stature that she wants. That's part of what all of us who are trying to do something creative live with—how long will I get away with this, and is there something that's gonna come up and take everything away? She feels good about herself until her son attacks her and then suddenly that part of her that is wondering where it's all gonna go suddenly roars to the front of her consciousness and she's confronted with her own vulnerability. She feels threatened and so she lashes out."
"Nina is a bit of a dreamer," says Ronan of her character. "She's someone who is stuck in one place and yearns for something different. To her, like a lot of people, acting and the theater offer something exciting and new. She seems full of life, but I always think of Nina as quite a sad girl, actually. There's something that's just missing."
Moss explained about Masha, "She can be angry and stubborn one minute, and then the next dissolve into tears, and then make a joke. There's something wonderfully Bette Davis about her. But at the same time I think she's the most self-aware character in the play. They're not willing to accept their lot in life, whereas I feel like Masha sort of has. She has accepted that she's not going to be happy— that's just the way things are gonna go."
This group of tangled relationships combines to create a dramatic story with wonderful performances.
The Seagull is rated PG-13 and opens in New York and Los Angeles May 11, 2018.
About the Author
Francine Brokaw has been covering all aspects of the entertainment industry for over 20 years. She also writes about products and travel. She has been published in national and international newspapers and magazines as well as Internet websites. She has written her own book, Beyond the Red Carpet The World of Entertainment Journalists, from Sourced Media Books.
Follow her on Twitter