'This is Us' on NBC
Category:
Television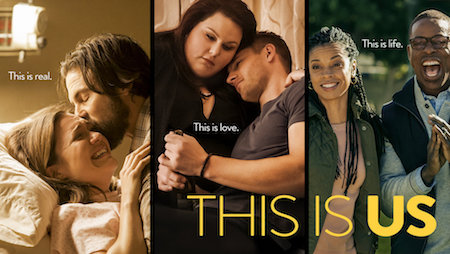 Once in a blue moon, we are blessed with a TV pilot that grabs our attention and touches us deeply. In my career, Jack & Bobby (2004), Friday Night Lights (2006), and The Good Wife (2009) come to my mind. They certainly fed my voracious appetite for heart-warming, feel-good human drama, but it has been scarce lately in this dark and cynical world.
Good news, my fellow feel-good-show-seekers! NBC came to our rescue this fall. You might have seen the trailer released in May, which recorded 91 million views all over social media. This phenomenon proves that there is something extraordinary about This is Us, created by Dan Fogelman.
At the press conference this summer, Fogelman asked the critics who had seen the pilot not to give away the big reveal before it premiers. He wants the audience to "experience the show the same way as somebody who popped in a screener and had no idea what it was about."
The show follows a group of characters who share the same birthday and so much more in unexpected ways. Fogelman describes his new creation as "a dramedy version of Lost where you have to understand how everyone's connected and then kind of explore these people as they move forward."
His "people" are played by Milo Ventimiglia, Mandy Moore, Justin Hartley, Chrissy Metz, Sterling K. Brown, and more. This rare breed of dramedy will entertain, uplift, and give you a little bit of hope and optimism. In this dark and cynical world in which we live, This is Us is just what the doctor ordered. Prepare to be surprised and dazzled by this group of ordinary people who show courage and resilience in their most trying times.
Be sure to watch it on September 20 or someone/something will spoil the experience for you. After all, this is the most buzzed-about "must-see" show of the century!
The most anticipated dramedy This is Us premieres September 20 on NBC.
About the Author
Meg Mimura is a TV critic who actually watches shows zealously in search of human drama worth watching. She is a member of Television Critics Association as well as Academy of Television Arts and Sciences.