unREAL on Lifetime
Category:
Television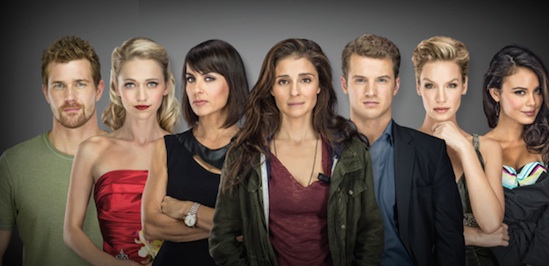 Shiri Appleby stars in this new addicting series on Lifetime. Appleby plays Rachel, a producer on a dating show called "Everlasting." Rachel is good at what she does and what she does is manipulate people. unREAL is a fun fictitious look behind the scenes of a Hollywood reality show.
The drama behind the scenes of the reality show "Everlasting" is more entertaining than what goes on with the contestants and the suitor they are all competing for. Yes, "unREAL" is a fictitious show but it sure makes you think whether producers have gone to these lengths in real life.
Rachel is a complex character who has a lot of personal baggage. She is currently homeless and serving community service for a legal mess she got herself in on a previous season of the show. Constance Zimmer plays the executive producer who has no feelings or remorse for what they put the contestants through. She has a heart of stone and her goal is "good TV." She even holds back the fact that one of the women's father had a heart attack because she didn't want the woman to leave the show. It would be bad for the show because that contestant fits in perfectly with her idea of the characters, aka contestants.
More drama off the set is with Rachel and her former boyfriend Jeremy (Josh Kelly), a cameraman on the show who is currently engaged to the makeup artist played by Siobhan Williams.
Some of the contestants on "Everlasting" are Faith (Breeda Wool), a Southern tomboy, Anna (Johanna Braddy), a very shrew and calculating woman, Mary (Ashley Scott), a single mother, and Britney (Arielle Kebbel) who is over-the-top.
unREAL will definitely intrigue viewers and is the perfect show for binge watching. It has drama, drama, drama. The puppet masters are at the top of their game in this series.
unREAL premiers June 1, 2015 on Lifetime.
About the Author
Francine Brokaw has been covering all aspects of the entertainment business for 20 years. She also writes about technology and has been a travel writer for the past 12 years. She has been published in national and international newspapers and magazines as well as internet websites. She has written her own book, Beyond the Red Carpet The World of Entertainment Journalists, from Sourced Media Books.
Follow her on Twitter
Like her on Facebook