Vanessa Trien and The Jumping Monkeys 'Wonderful YOU' CD GIVEAWAY
Category:
Giveaways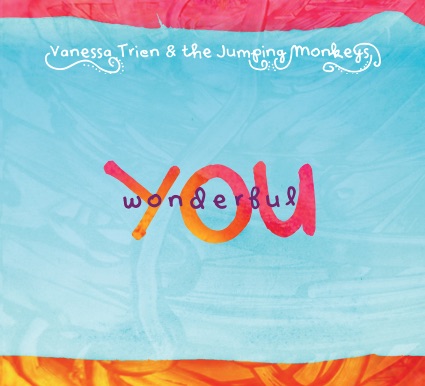 Vanessa Trien is a first-class composer of original melodies that are artfully crafted, while at the same time displaying a natural quality that makes them easy for kids to sing along with and recall. Reminiscent of Woody Guthrie's children's songs, every number on Wonderful YOU has a compact message, style and flavor that is effortlessly comprehended and remembered by children and adults alike.
Wonderful YOU kicks off with Vanessa Trien dueting with Alastair Moock on "One Foot in Front of the Other." Explains Vanessa, "Observing Alastair's family support one another when they faced a major health challenge, I was filled with inspiration. With thoughts of them 'pulling each other through' those hard times, I wrote the chorus to 'One Foot in Front of the Other,' and I'm honored that Alastair agreed to sing it with me."
Other highlights include a cover of the Beatles' "All Together Now," with Barbara Brousal in a cameo role, while Vanessa Trien's kids and their friends add their voices to the chorus; "Feeling Thankful," a sweet country waltz sung in harmony by Vanessa Trien, Barbara Brousal, and Rani Arbo (with Rani Arbo on fiddle); and the celebratory anthem, "Fireworks," which envisions people coming together from all over to sing on the Brooklyn Bridge, as fireworks explode gloriously overhead.
For more information go to their website. http://vanessatrien.com/index.php?page=homepage
We have some CDs to giveaway.
To be eligible to win a copy of Wonderful YOU, email us at [email protected] with "Wonderful YOU Giveaway" in the title. Please supply your name, address, phone number and email address (so we can let you know if you are a winner).
The deadline for this giveaway is October 15, 2016.