Walt Disney World Transforms Downtown Disney into Disney Springs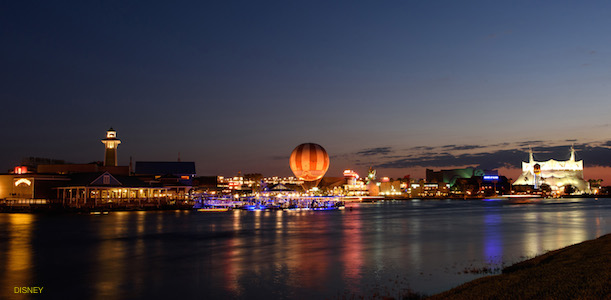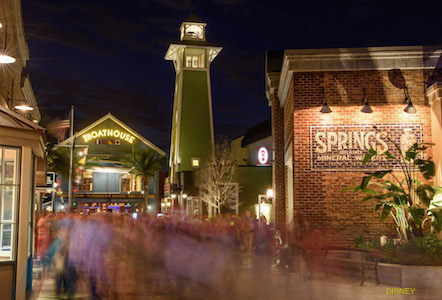 Goodbye Downtown Disney. Hello Disney Springs. Walt Disney World's Disney Springs (formally Downtown Disney) is undergoing the largest expansion in its history. This is a fun area of WDW in which guests can eat, be entertained, drink, shop, have fun, and even take a ride in a hot air balloon – tethered, of course.
Disney Springs consists of four neighborhoods, each serving its own purpose and each with its own architecture, but revolving around a "natural" Florida Springs like towns of the past. Disney isn't just slapping together buildings and calling it Disney Springs. Plenty of thought has gone into this newest region of Walt Disney World. It is meant to immerse guests in the history of old Florida while taking them through different eras as they walk around the property.
The Landing neighborhood is set in the 1900-1910 period with building facades that reflect that time. The Town Center neighborhood consists mostly of shops and looks like a town did around the 1920s, with Mediterranean-inspired architecture. Next, the Marketplace neighborhood reflects the 1930s. These new neighborhoods will open to the public on May 15, 2016.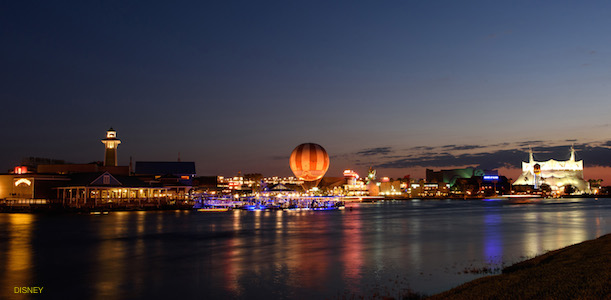 The West Side is already open and is the place we think of when we hear "Downtown Disney." This "neighborhood" is built in the character of the 1950s. Here is where you can ride the balloon, go bowling in Splitsville, dine in a variety of eateries, watch a show, and just have fun.
Disney Springs is "a special and magical place," said Keith Bradford, Vice President of Disney Springs. Besides the activities, the Disney folks wanted to "focus on storytelling like the parks and the cruises." Bradford exclaimed, "this is the largest growth we've ever experienced in the history of this property." With the expansion, Disney Springs is going to be a major destination for visitors to WDW.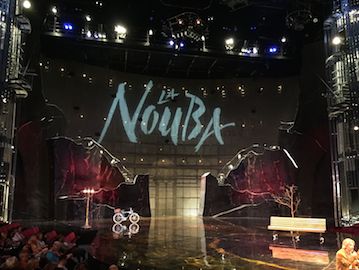 Cirque du Soleil has it's own theater here and presents its spectacular show La Nouba. This is a show for all the senses and engrosses visitors in a magical experience. Aerial ballets above the stage mesmerize guests while plenty of amazing acrobatics are playing out on the stage. This is truly a fascinating experience. As they said, this show has been given "an extra push."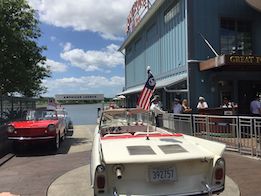 While you're walking around Disney Springs, why not test out a water car. These are authentic Amphicars that can drive on land and float on the water. This is the only place in the world guests can experience the Amphicars.
And for shopping for Disney items, the World of Disney here is the largest in the country with separate areas designed specifically for the different characters. How fun is that? Answer: really fun.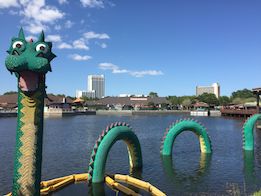 Plus, let's not forget Disney Quest. This is where virtual reality makes its mark. Create your own excitement and experience a variety of virtual experiences. There are areas in this gigantic building designed just for preschoolers, so don't think this is only for adults. It's a great place for family fun.
A variety of dining experiences await you in Disney Springs. Morimoto Asia recently opened. This is the place created by Iron Chef Masaharu Morimoto and offers a variety of Asian selections with a few kid-friendly options. After all, this is Walt Disney World.
Whether you want Italian food, steaks, seafood, fish and chips, American food, sandwiches, coffee, or all kinds of sweets, Disney Springs has it.
Disney Springs is a nice little change from the other theme parks. Whether you are driving yourself or accessing it from the Disney Bus Transportation System or the Disney Boat Transportation System on the waterways that serves Port Orleans, Old Key West, and Saratoga Springs resorts, Disney Springs is an area for all kinds of family fun.
About the Author
Francine Brokaw has been covering all aspects of the entertainment industry for 20 years. She also writes about products and travel. She has been published in national and international newspapers and magazines as well as Internet websites. She has written her own book, Beyond the Red Carpet The World of Entertainment Journalists, from Sourced Media Books.
Follow her on Twitter