What to expect when 'Mary Poppins Returns'
Category:
Movies


Knowing Julie Andrews received the Oscar for her performance in the 1964 film Mary Poppins must have been a consideration for Emily Blunt as she stepped into the shoes of the iconic character. However, Blunt is completely enchanting and a delight to watch. It looks like she had a great time filming every scene.
Mary Poppins Returns is the story of the Banks children, Jane and Michael (Emily Mortimer and Ben Whishaw), who are grown up and living in London. Michael is a widower with three young and precocious children: Anabel (Pixie Davies), John (Nathanael Saleh), and little Georgie (Joel Dawson). His wife passed away and he is behind on his mortgage. His house is about to be reposed by a very greedy banker, William Wilkins (Colin Firth). Enter Mary Poppins.
With music, mayhem, and magic along with fun and fantasy, Mary Poppins Returns is a sweet story of love and family, like the original film. At its core it focuses on what is important in life.
The score is fun and lively, however the lyrics are very fast and the songs aren't quite as memorable as the 1964 film, yet there are two that stand out: "Trip a Little Light Fantastic" and "Underneath the Lovely London Sky." There are a few others that will be enjoyed by the audiences as they watch the fun unfold on the screen.
Jack (Lin-Manuel Miranda) is a light keeper and manages to get around London on his bike. He's the equivalent of Bert (Dick Van Dyke) from 1964. And, Dick Van Dyke makes an appearance as Mr. Dawes Jr. In the original film Van Dyke played Bert as well as Mr. Dawes Sr. This man is still as vital and manages a song and dance on a desk!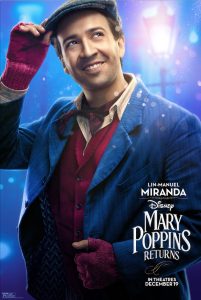 Angela Lansbury is the Balloon Lady and Julie Walters is the Banks' housekeeper Ellen. They both are enjoyable characters. Karen Dotrice, who played the young Jane in Mary Poppins, makes a cameo. Meryl Streep plays Topsy and this is the one scene that isn't necessary in the film. It feels as though the filmmakers decided they wanted Streep in the movie so they created this one scene for her. Otherwise, the movie flows beautifully.
Mary Poppins Returns is a bit darker than the original movie in the sense that the Banks children are motherless. That's not an uncommon story for many Disney films. But Mary Poppins steps in, or actually flies in, and helps mend this broken brood.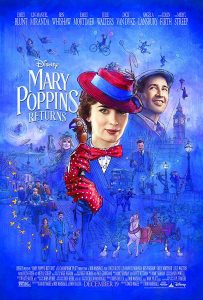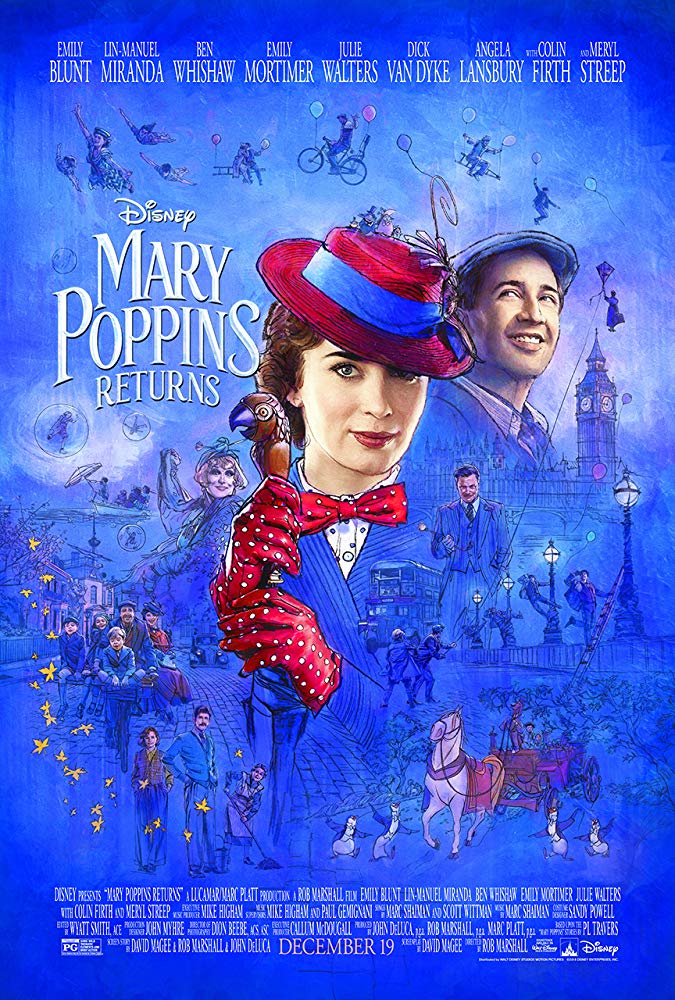 As in the original movie, there are scenes with animated settings and characters. And the penguins that danced with Bert return to delight viewers. In several scenes there are shades of tunes from the 1964 film, which serve to tie them together. And they do it quite nicely, especially for cynics who poo-poo the idea that the filmmakers and the studio decided to add to the history of the famous nanny.
The bottom line is that this is a well-done sequel with a fine cast. Cherry Tree Lane is still the same and as audiences leave the theater they will undoubtedly feel happy and content with the way the movie honors the original and makes a new mark for the lovely Mary Poppins. Will Blunt follow in Andrews' footsteps at the Oscars? Only time will tell.
Mary Poppins Returns is rated PG for some mild thematic elements and brief action. It opens in theaters December 19, 2018.
About the Author
Francine Brokaw has been covering all aspects of the entertainment industry for over 25 years. She also writes about products and travel. She has been published in national and international newspapers and magazines as well as Internet websites. She has written her own book, Beyond the Red Carpet The World of Entertainment Journalists, from Sourced Media Books, is the entertainment correspondent for Good Day Orange County, and has her own TV show, Beyond the Red Carpet, on Village Television in Orange County.
Follow her on Twitter