Will Smith & Dr. Bennet Omalu Talk 'Concussion'
Category:
Movies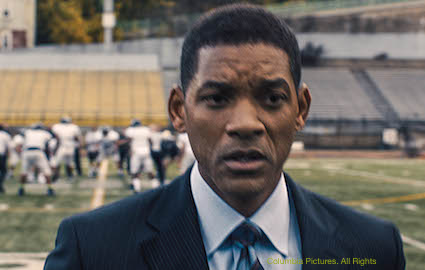 "I don't think I'll get invited to the Super Bowl next year," quipped actor Will Smith, who stars in the Christmas Day opener Concussion. A scientific real-life sports thriller, it unfurls the story of Nigerian immigrant Dr. Bennet Omalu, who single-handedly took on one of America's most powerful institutions – the National Football League.
A forensic pathologist for the Allegheny County Coroner's Office in Pennsylvania, Dr. Omalu discovered irregularities in the brain of a beloved Pittsburg Steelers Hall of Famer, Mike Webster (played by a beefed up David Morse) that suggested a medical explanation for the significant number of NFL players, who succumbed to addictions, depression, and suicide at an early age. He labeled this affliction chronic traumatic encephalopathy, or CTE and attributed it directly to the repetitive brain injuries incurred while playing football. It's roughly estimated that over the course of an 18 season long career, a player sustains at least 70,000 blows to the brain.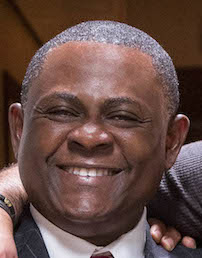 Dr. Omalu published his findings in a medical journal. Even his boss warned, "You're going to war with a corporation that owns a day of the week." As predicted, the doctor's actions were met with swift retaliation from NFL officials and over the ensuing decade both his reputation and credibility was ceaselessly challenged.
The turning point was a GQ article penned by Jeanne Marie Laskas titled "Game Brain," which also was the catalyst for the filming of Concussion. A copy of that article landed in the hands of Giannia Scott, Ridley Scott's wife, who immediately sensed the need to bring the life-and-death issue to the general public's attention. Enlisting writer/director Peter Landman, the Scotts pitched it to Sony Pictures, who bought it on the spot.
Afterwards, Ridley phoned Smith and said, "I got a present for you." Will responded to the offer, "What? That ain't no damn present." Nevertheless, he found the idea intriguing and climbed aboard.
Giannia Scott related during a press day at Manhattan's Crosby Hotel, "Will is the best person we could have gotten. Will and Bennet are so similar in their hearts – they're generous, loving and selfless and that's what this story is about. It's about a man so selfless that he gave everything up to get this message out and that's what this movie is about."
The 47-year-old actor, who previously played Muhammad Ali in Ali and Chris Gardner in The Pursuit of Happyness, described playing real life individuals as his "strong suit." He continued, "It's much more terrifying, however, with the end product, because you know that one day you're going to end up in the movie theater with the person while they watch you butcher their life.
"But in terms of preparation, it's great to be able to sit, talk and feel. I met his family, his friends, and we talked for hours. I rode in his car and listened to the music he listened to, all the different aspects."
The aspect of Dr. Omalu's life that emotionally effected Smith the most was watching the doctor perform an autopsy. He explained, his voice betraying a note of reverence, "It's like he's delivering souls from this world to the next, and you see just how seriously he takes that job, not just on a physical level, but on a spiritual level as well. It's a spiritual responsibility to deliver these souls to the other side. I got hooked into the almost paradoxical nature of spirituality and science, it deeply opened the well spring to the inner truth of Bennet."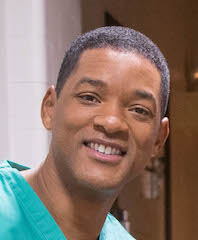 So how well did Smith do portraying Dr. Omalu? It was nothing less than a four star review as Bennet commended his on screen alter ego, "As the movie began, I saw Will Smith play me. About 10 minutes later, I don't know what happened to me. It turned from association to transformation. I became totally lost in the moment. I was embedded in the Omalu I saw on the scene.
"This is a testament to the job he did. It reminded me of my childhood perception of America as the land of perfection. And his acting in that moment epitomized perfection. His speech, the contortions of his face, the emotional composition of his acting, where he slammed his hand on the table, that was me."
He wasn't alone, as Bennet playfully added, "My wife said, 'OMG, maybe I should now be answering to the name Mrs. Smith." Compounding the accolades, Smith received a Golden Globe for Best Actor.
Rather than being against football, Dr. Omalu firmly believes that Concussion possesses an even greater message which validates an individual's freedom of speech and the opportunity to pursue one's dreams. The recipient of eight advanced degrees and board certifications exclaimed, "It's only in America that you could have a Will Smith or a Bennet Omalu. It's a fact. If I hadn't come to this country I wouldn't have had this opportunity. I wouldn't have this education to contribute my part, just like everyone else."
Rather than discredit the movie sight unseen, director Landsman encourages the NFL and its players to "embrace it, because this is a movie that isn't trying to hurt them." Taking a constructive step, Ridley Scott and Giannia have established the Bennet Omalu Foundation for the sole purpose of finding a cure for CTE.
Although the NFL didn't have a role in the making of Concussion, the filmmakers did receive many phone calls from players requesting to see an advance screening. One of them was Chris Borland, the 49ners linebacker, who was pegged as Rookie of the Year. Only 23 years old and on the brink of become one of the greatest players on the gridiron, he opted to retire earlier this year reasoning that the rest of his life was more important than being a football player.
Landsman related Borland's reaction, "We showed him the movie early on at the Sony lot. It was just him and he was shaking and crying. Chris commented that if he was going to make a movie "it would be this one.' He was literally dissembling as he was watching this film because he felt like he was watching what he had just avoided."
About the Author
Winnie Bonelli is a former entertainment editor for a daily metropolitan New York City area newspaper. She is passionate about movies and television and loves to take readers behind the scenes.