Woody Allen's latest – 'A Rainy Day in New York'
Category:
Movies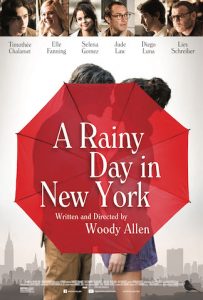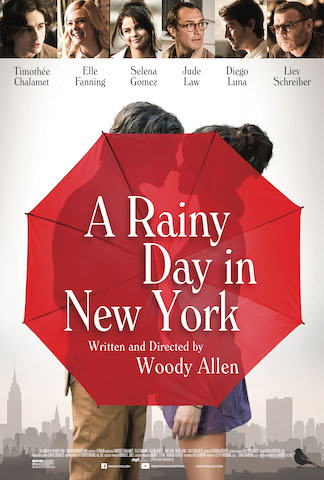 Timothee Chalamet stars in the latest film by Woody Allen, A Rainy Day in New York. Also co-starring are Elle Fanning, Selena Gomez, Jude Law, Diego Luna, and Live Schreiber.
As with many of his other films, this is a romantic comedy, however because it is an Allen film, I am more obliged to label it more of a farcical film than a comedy. The cast is what makes it.  Their characters are whacky but endearing.
Gatsby (Chalamet) is a student at a New York upstate university. His girlfriend is Ashleigh (Fanning) who is bubbly and exuberant, especially given an assignment from her college paper to go to NYC to interview a famous director. She is thrilled to interview Roland Pollard (Schreiber), especially given her first date with Gatsby was a Pollard movie.
Gatsby decides to treat Ashleigh to a fun-filled weekend in NYC, his home ground. He plans a lot of activities and knows exactly which restaurants they will eat at. Her interview would only take up a couple hours of their dynamic weekend in the big apple. At least that is what was supposed to happen.
Ashleigh gets on well with Pollard and soon she finds herself in a private screening with Pollard and the screenwriter Ted Davidoff (Law). Then things go awry and Ashleigh is sent to retrieve the moody director and runs into movie star Francisco Vega (Luna). So now Ashleigh is hobnobbing with the actor and is piling up amazing experiences.
In the meantime Gatsby is spending the day alone until he runs into a friend from the past. Chan (Gomez) is a witty young woman and soon the two of them are spending time together. Then Gatsby is railroaded into going to a party thrown by his parents. The day is definitely not what Gatsby precisely plan out in detail. His intricate plans get waylaid at every turn. The characters are each different entities with their own idiosyncrasies.  "Ashleigh sees the rain as gloomy, while Gatsby sees it as romantic," says Allen. Maybe the people we are with are not the ones we are supposed to be with.
A Rainy Day in New York opens October 9, 2020. It is rated PG-13 for mature suggestive content, some drug use, smoking, language and partial nudity.
About the Author
Francine Brokaw has been covering all aspects of the entertainment industry for over 25 years. She also writes about products and travel. She has been published in national and international newspapers and magazines as well as Internet websites. She has written her own book, Beyond the Red Carpet The World of Entertainment Journalists, from Sourced Media Books, is the entertainment correspondent for Good Day Orange County, and has her own TV show, Beyond the Red Carpet, on Village Television in Orange County. She is a longstanding member of the Los Angeles Press Club and the Television Critics Association.