Baby Buddy 360 Toothbrush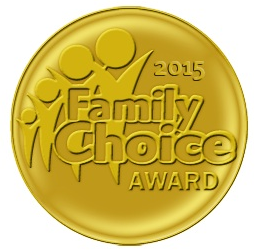 | | |
| --- | --- |
| Ages: | Step 1 (4-24 months) & Step 2 (2-12 years) & Adult Sensitive for Expectant Mom |
| Price: | $13.95 |
| Website: | www.babybuddy.com |
| Year: | 2015 |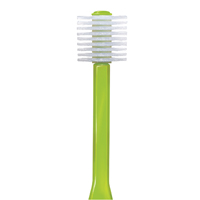 Baby Buddy – the maker of creative, innovative and quality products for parent and child – has announced the latest expansion of its oral care line: The 360 Toothbrush. This intelligent advancement in toothbrush design uses state-of-the-art technology that allows parents, caregivers and children to easily reach everywhere in the child's mouth – brushing teeth, tongue and gums simultaneously!
The Difference is in the Bristles:
Developed with the support of Osaka University Infant Dental Clinic, the 360 Toothbrush has 10,000 microfiber bristles – 10X more than the average toothbrush! Featuring a unique 360 patented design, the bristles are arranged in a series of circular disks held in place by spacing washers located between each bristle layer.
This highly functional design removes 1.8X more plaque while allowing for softer, more effective brushing with less pressure.  Additionally, the ultra-soft, micro-fiber bristles enable water-only brushing, eliminating the need for using toothpaste with toddlers and young children.
Setting it apart from traditional toothbrushes where bacteria can grow at the base of the bristles, this unique cylindrical design of the 360 Toothbrush eliminates any grooves or holes where food particles and toothpaste can get stuck and germs can grow.  Furthermore, the arrangement of the bristle layers provide quick drying for easy, hygienic maintenance.
The 360 Toothbrush comes in two options, Step One and Step Two, each available for a suggested retail price of $12.99.  Step One, with color options of blue, pink, mint and yellow, is designed for parents and caregivers to use with children ages four months through two years, as baby teeth grow in.  From there, children can move into Step Two, also intended for parents and caregivers to use with them and then supervise as they transition the child to brushing his/her own teeth.  With 0.09mm medium bristles and color options in navy, red and purple, Step 2 is designed for ages two years through 12 years and helps encourage independent tooth brushing.
Due to its construction and use of microfiber bristles, the 360 Toothbrush lasts much longer than traditional toothbrushes.  This advancement in toothbrush design joins the Finger Toothbrush and Baby's First Toothbrush –as well as the newly introduced Tooth Tissues® and Wipe-N-Brush – in the rapidly-expanding Baby Buddy Oral Care line.