BELIEVE Kathryn the Grape Songs for Kids of All Ages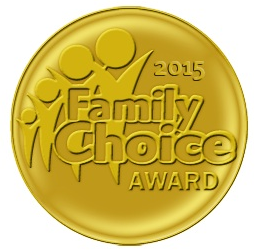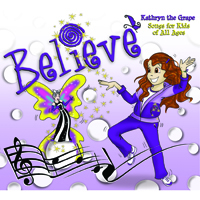 Join Kathryn the Grape and friends in singing and dancing along to the award-winning music of BELIEVE Kathryn the Grape Songs for Kids of All Ages. In this collection of vibrant songs we combine positive and affirming Kathryn the Grape written lyrics and dynamic music with pop beats that kids, parents, and grandparents enjoy together.
One of things that makes the songs on this award-winning CD extra special is that Kathryn Cloward (the original "Kathryn the Grape") invited six "everyday kids"—not professional performers—to sing backing vocals. Since childhood, Kathryn dreamed of singing on a music album of her own, and she wanted to give a similar dream opportunity to local youth.
Each song on the CD links to the first three books in the Kathryn the Grape Affirmation Series.  In "Kathryn the Grape Just Like Magic" (book 1) children learn about being MAGICAL, and how to get rid of their NERVOUS BUBBLES.  In "Kathryn the Grape's Colorful Adventure" (book 2) children learn how to shine COLORFUL YOU as MAGGIE leads the way.  In "Kathryn the Grape's Piece of Love" (book 3) children learn to BELIEVE that everyone is love, and how to breath deep through meditation to be IN THE FLOW.  Everyone will enjoy dancing along to Kathryn the Grape's energetic theme song, THE FRIENDSHIP SONG.