Dinosaur Discovery Play Tent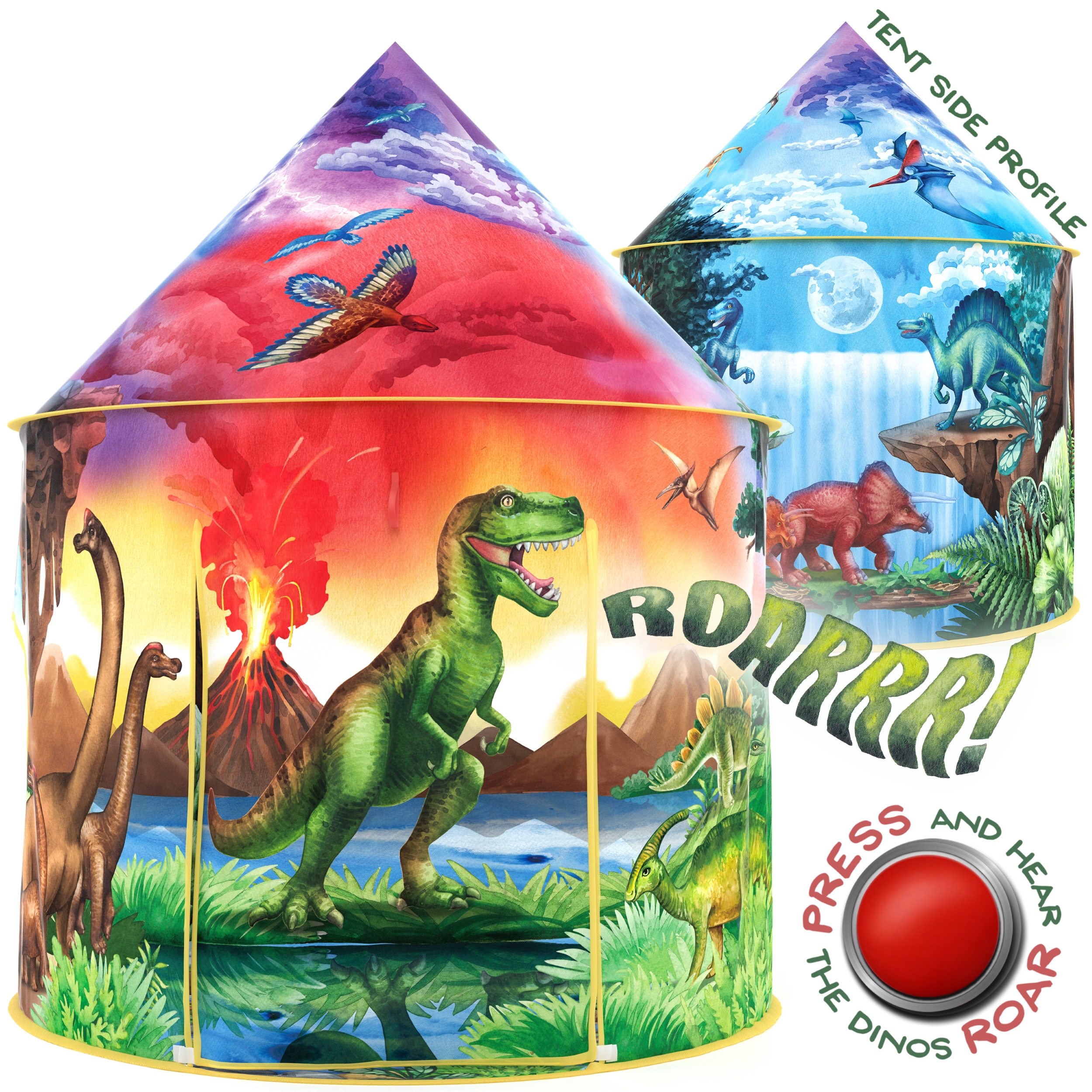 Sixty five million years ago dinosaurs vanished from the face of our planet. Little kids can now only dream of how extraordinary the Prehistoric Era once was. The Dinosaur Discovery Play Tent has vibrant lifelike artwork and a novel ROARR Button which ignites children's imaginations, catapulting them back to a prehistoric era where dinosaurs roamed the earth.
This roomy prehistoric playground, sized at 51 by 40 inches, provides the perfect space for kids to use their imagination and create WILD adventures! Comfortably fits 3 children making it great for sleepovers and playdates. Though this indoor and outdoor tent is spacious, it's also conveniently compact, simply folding away into its tote bag when playtime is finished.
CAPTIVATING LIFELIKE ROARS: Child development experts agree, the best toys are the ones that enhance kids' imaginations. Press the ROAR button in this play tent for boys or girls, to light up their imagination with 6 x Lifelike dinosaur sounds. Perfect for your little one's intellectual and creative development, your kiddo will soon be running with Velociraptors and soaring with Pterodactyls!
#1 GIFT FOR DINO LOVERS: The vibrant artwork and ROAR button makes this a perfect kids play tent and an unforgettable gift for any boy or girl. Unleash your child's creativity by giving them a special place where they can dream and play make-believe games for hours. Content includes:
-Pop-up Dinosaur Discovery Play Tent with captivating artwork
-ROAR button with six lifelike dinosaur sounds
-Convenient Travel Bag for easy storage
-BONUS Dino Discovery e-Booklet (redeemable on purchase)
PLAY & LEARN! Are your kids getting too much screen time? Or are those two words- 'I'm bored,' really wearing you down? Forget the gadgets and screen time, teach your little ones about the dinosaurs they can SEE and HEAR using your Dino Discovery e-booklet. You can download this e-book for fascinating facts about these extraordinary creatures.
YOUR CHILD DESERVES THE BEST! Unlike other play tents we use STRONG & SAFE fiberglass rods instead of the cheap plastic poles that often break. Shaped with premium polyester that is easy to clean and reinforced roof and floor pockets, it is durable enough to withstand any epic dinosaur adventure! For your peace of mind we provide a hassle free replacement at your request.
Available online and at: www.winstonolive.com – Amazon.com: http://store.winstonolive.com/ZGSWOi