Highlights High Five™ Magazine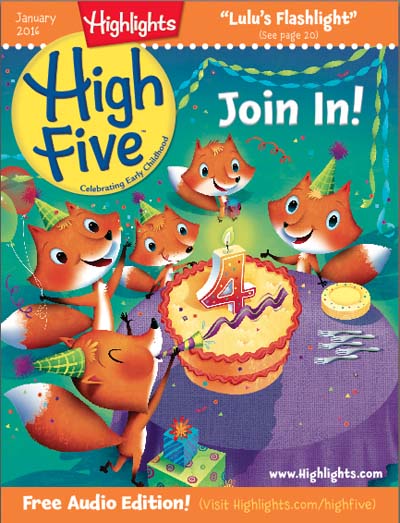 Devoted to "Fun with a Purpose," Highlights High Five™ is designed to entertain young children (2-6 year olds), as well as, introduce early literacy and strengthen math, social studies and science skills. High Five contains beautifully illustrated read-aloud stories, poems, puzzles and hands on activities. High Five is designed to be shared between parent and child—as they talk together about the activities and stories they read, it supports the development of the child socially, emotionally and cognitively.
Over five million children have enjoyed this product since its launch in 2007. In 2014, Highlights launched a sister publication to High Five called High Five Bilingüe, the first and only magazine in the U.S. developed specifically for early learners to support bilingual language development of Spanish and English. High Five is also syndicated to other countries—including magazine derivative versions in India and China—and a series of products inspired by the magazine as books in retail settings.
Highlights for Children is pleased to announce that its Highlights High Five™ magazine was recently named one of 'The 30 Hottest Magazine Launches of the Past 30 Years' by min, an industry source on consumer and B2B magazines. High Five is the only children's magazine on min's list and, compared to the others on the list, has the narrowest audience (2-6 year olds)—children who have yet to master independent reading. High Five is also one of only two magazines on the list that contains zero advertising.
Highlights for Children, Inc. is celebrating its 70th anniversary this year. In addition to Highlights High Five, Highlights' other offerings include Highlights, the flagship magazine for children 6-12; High Five Bilingüe™ (an English/Spanish version of High Five magazine, for children ages 2-6); Highlights Hello™ magazine for children 0-2 and their parents; a children's book division (Highlights Press, including Boyds Mills Press), puzzle book clubs and several digital offerings including two new mobile apps recently released: Highlights Hidden Pictures and Highlights Every Day. You can order Highlights High Five magazine online at highlights.com.