Space Age Crystals: Deluxe Kit Grow 13 Crystals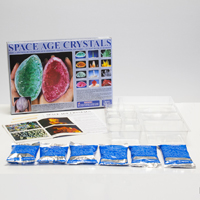 Grow an amazing collection of 13 sparkling crystal specimens in "Emerald", "Quartz", "Topaz" and "Ruby": five crystal clusters, four geodes and four single crystals. Growing SPACE AGE CRYSTALS is not long or complicated. Just dissolve the pre-mixed crystal powder in warm water, and within hours sparkling crystals will start to grow right before your eyes! A fascinating experience for children and adults.
Contents: Crystal growing chemicals, geode mold, casting plaster, crystal growing containers, lids, stirring rods, 48 page Space Age Crystals booklet, instructions.