ARIA's Adventures: Augmented Reality Educational Activity Kit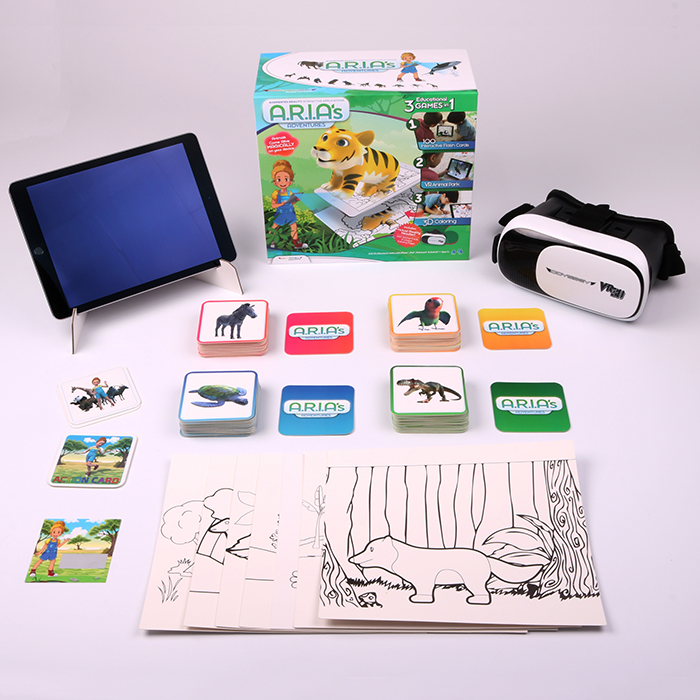 Teaching children about the natural world around them including jungles, forests, and animals can be a little daunting. How cool would it be if their learning was experienced in the 3D realm? Imagine the added value of combining modern gaming technology and education. Gone are the days where kids simply read a book or color flat pages, arrived are the days where the pages come to life for today's tech savvy youth.
Odyssey Toys presents ARIA's Adventures, the new wave of children's education and play. Utilizing augmented reality, ARIA's Adventures offers several interactive and exciting options. Simply use your smart device or the included VR headset and allow Aria to take you on a virtual journey through the jungle. All 100 animal cards come to life to teach the player valuable facts about itself, adding a stimulating educational element to the game. The 3D coloring feature is a mesmerizing experience- watch as wild animals fill in and transform from flat white drawings to exciting, colorfully interactive characters.
This interactive game takes advantage of modern technology, allowing children to learn in an innovative, fun, and engaging way. Aria's Adventures utilizes augmented reality (commonly known as AR to techies), the latest gaming phenomenon that causes physical objects in the real-world environment to appear augmented. ARIA's Adventures is a single or multi-player interactive experience recommended for ages 4+.
Where to Purchase: KMART – Sharper Image