Baby K'tan 3 in 1 K'tan Cloth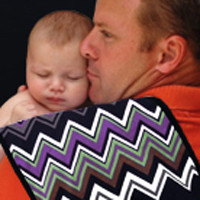 The 3-in-1 K'tanCloth is an accessory piece that serves as a Burp Cloth, Nursing Cover and Blankie.
The enhanced K'tanCloth still offers all features of the company's original version including an open pocket design that catches spit-up to make burping mess-free, along with a smart Velcro attachment that ensures your little ones will never lose their favorite blankie. Additionally, its compact size offers a discreet nursing cover when attached to a carrier or nursing tank.
"The K'tanCloth is our answer to a travel-friendly accessory piece that solves multiple problems with one item," says Michal Chesal, inventor and co-owner of Baby K'tan, LLC. "As parents, we know that babies require lots of gear, and the more problems one article can solve the better!"
The updated version of the K'tanCloth swaps out the plain cotton on one side with a breathable micro-fiber mesh fabric designed to absorb messy spit-ups. The other side still boasts 100% natural cotton (free of chemicals and azo dyes) and features a colorful zigzag statement graphic that coordinates with the entire line of Baby K'tan Baby Carriers.