BABYBJÖRN Baby Carrier One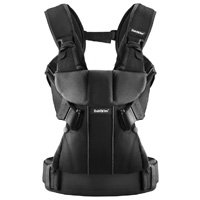 Baby Carrier One is an industry-changing, multifunctional baby carrier with 4-way front and back carrying. The carrier features three front carry positions as well as an all-new back-carrying option, and is the only carrier on the market that allows the parent to move the child to the back-carrying position without assistance. It is also the only carrier capable of carrying a baby from birth to three years old without the need for a newborn insert.
As with all BABYBJÖRN products, Carrier One was developed alongside pediatricians to ensure it provides the right support for baby's growing head, back and hips. Audible clicks ensure baby is secured in the carrier, and adjustable features, such as the padded waist belt and wide shoulder straps, make for a comfortable and supportive baby-wearing experience. If baby falls asleep in the carrier, simple disengagement of the locking mechanisms allows the parent to easily remove baby without waking. And, Baby Carrier One's fabric is Class-1 Oeko-Tex certified, meaning it's free from harmful chemicals and won't irritate baby's sensitive skin.
BABYBJÖRN's Baby Carrier One can be purchased at independent, online and mass retailers.