Bearhands & Buddies: Mittens, Gloves & Scarves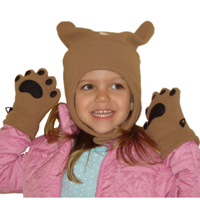 Toddler mittens/chinstrap hat
Bring out the bear cub in every kid!  These Thinsulate lined mittens and chinstrap hats are available in infant (6-18mths) and toddler (18-36mths) sizes in a rainbow of fleece colors.  The mittens are easy to get on with no thumbs to worry about, with elastic at the wrist to keep them secure.  The chinstrap hat has a double layer of fleece around the head and ears, and secures with Velcro on the strap under the chin, keeping ears and heads toasty warm.
Infant/Toddler Mittens $12.99, Chinstrap Hat $11.99
Youth mittens
These superwarm, Thinsulate lined BearHands mittens are available in youth and adult sizes.  Youth sizes available are Youth S (3-7yrs) and Youth L (8-13yrs), the 4 adult sizes are XS, S, M and L.  They are available in a rainbow of fleece colors to suit everyone.  They are both fun and FUNctional with a secret flap that allows you to access your 'bare' hand without removing the mitten; a feature that kids enjoy and moms love as it results in less lost mittens!
Youth $18.99, adult $22.99.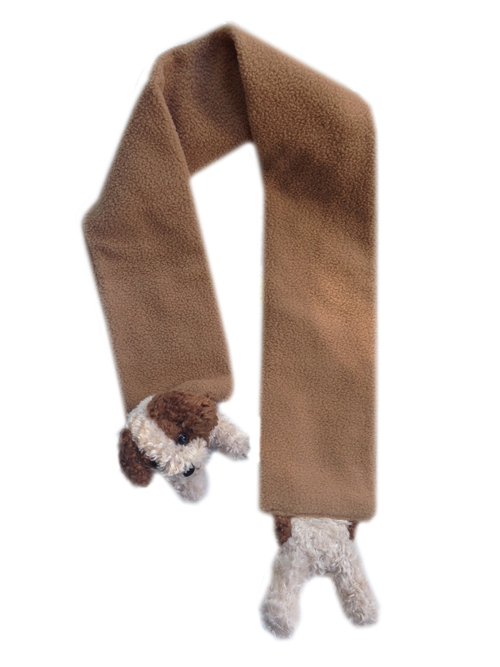 Brown & cream dog buddy scarf
Our buddy scarves are available with a menagerie of animals, and allow kids to snuggle with their buddy while leaving their hands free to play.   The scarf is one size fitting toddler through to adult, it has a head at one end and a tail at the other; when tied the animal becomes whole again!  There are also matching hats available that are superfun to wear!
Scarves $14.99
Available from our website www.bearhands.net