Bitybean UltraCompact Baby Carrier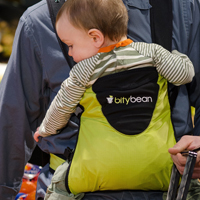 Bitybean's UltraCompact Baby Carrier is the smallest soft-sided carrier on the market. It is designed and engineered with state of the art materials for ease and comfort for active families. It is optimized to provide the most comfort, packability, and style. Weighing just 8 ounces and smaller than the size of a child's water bottle, the UltraCompact Carrier fits in any bag or purse allowing you to be ready for anything! Bitybean's baby carrier is perfect for families on the go.  It is convertible for front and back carry for children 3 months or 8-40 pounds. It is available in 4 stylish colors: lime-green, carrot-orange, sky-blue and sand-grey.
Bitybean, llc is a socially conscious Vermont company dedicated to the mission of helping families get out and explore their world together.