Bloco Robot Invasion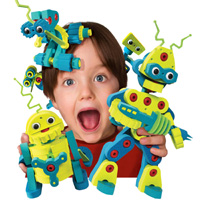 Bloco™ Robot Invasion! You would think that every manner of robot has already been invented. Think again. This building set from award-winning toy developer and manufacturer Bloco™ lets kids create an entirely new sci-fi universe of robots. And the best part is you'll never be lacking in spare parts as the reusable pieces are designed to serve a variety of purposes, and the only circuitry you'll require is the brain circuity that powers your imagination.
The construction toy that keeps reinventing itselfThe high density foam pieces and plastic connectors interlink, stack and rotate at any angle, making it possible for children to either assemble the creatures by following the simple instructions, or mix and match the pieces to create their own bots and androids, or even build as many as five creatures at once. And with every new variation they come up with, kids can play with their new creatures or display them in their room as decorative items.
Build and play… anyway, every dayThe Robot Invasion Set helps build motor and spatial skills while promoting creativity. Imagine being able to build and play with a new toy every day or redecorate your room whenever you need a fresh addition. The pieces are resistant, safe, non violent and washable, all qualities that get a big thumbs-up from parents. They are also easy to manipulate and attractively colored to stimulate interaction. All told, the Robot Invasion Set delivers endless hours of fun and frees boys and girls to become inventors, builders, explorers and adventurers.
A never-ending adventure because the possibilities are endless
The magic of a Bloco™ construction toy is its power to become a new toy every time. Kids become so enraptured with the range of possibilities, getting bored is never an option. From building one creature to several creatures simultaneously, the pieces can be transformed, morphed, mutated, shaped and stretched as far as your child's imagination can travel. The sky really is the limit!
What's in the Box?
165 foam pieces, 60 plastic caps and connectors, 1 detailed instruction sheet.