Blue Skies and Pirates, by Donna and Andy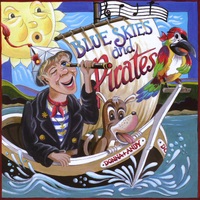 Blue Skies and Pirates is a children's CD containing twelve original songs written by Canadian composers Donna Rhodenizer and Andy Duinker. These two composers and musicians perform as the duo Donna & Andy and have been creating top quality music for children since 1996. Donna's expertise as an elementary music specialist is very evident in the quality of the music this duo writes, performs and records. The Blue Skies and Pirates CD presents songs about best friends, pirates, the weather, bears, dust bunnies and other topics that are sure to pique the imaginations of young listeners. The lyrics are well crafted, age appropriate and imaginative. A variety of musical styles are incorporated reflecting the influence of blues, classical, jazz, ragtime and even a cha cha.
Some of Canada's finest musicians have made guest appearances on the CD creating authentic accompaniment tracks for all songs. All twelve songs are presented with full performance tracks plus instrumental accompaniment tracks offering listeners a very versatile musical experience. Young singers can learn the songs to perform for admiring family members or use for before-bed listening. Teachers will also find this CD useful in classroom and concert settings. Blue Skies and Pirates provides n imaginative, well-written and positive experience for children, parents, teachers and anyone looking for top quality children's music to listen to, sing along with and enjoy.