Crayola Outdoor Colored Bubbles Big Wand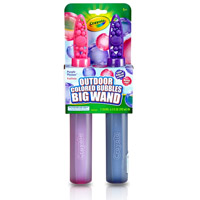 For the first time, kids can have BIG fun by creating giant-size bubbles in bright, beautiful colors! Crayola's widly popular next generation of colored bubbles let kids enjoy hours of bubble-blowing fun in a whole new way. Only Crayola could turn traditional soapy bubbles into brightly colored ones with names like "purple pizzazz" and "fuchsia", allowing kids to enjoy messy fun that is designed to clean up.
Because they are colorful, they will leave temporary colorful marks on skin, clothing and intended outdoor surfaces. Color rubs off skin, can be laundered from clothing and wil spray away from most outdoor surfaces like driveways and sidewalks with a garden hose.