Decorative Judaic table top Bread Covers by Radiant Designs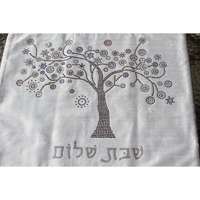 Designed and made by Diana K. an artist based in Los Angeles, California.
Diana's designs are inspired from traditional and spiritual symbols not only for people of the Jewish faith but around the world.  Her designs appeal to adult individuals and families of all religious background. There are currently four designs all of which are limited edition. The Challah covers are made with raw silk or linen and 100% fine crystal.
The Rainbow Tree is $250 and the Tree of Life is $160.