Despicable Me Fart Blaster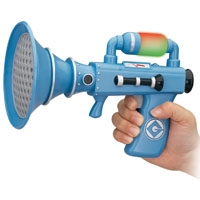 Get the latest in Minion gadgetry with the Fart Blaster – A Despicable Minion Gadget!
Squeeze the trigger for Fart Sound Effects and color changing lights! Keep firing for multiple gas passing sounds! Fool your friends with the Time Delay Joke Mode. Set it and leave it in place. Twenty seconds later, it erupts with hilarious Fart sounds!