Disney's Animators' Collection Adds Lilo and Stitch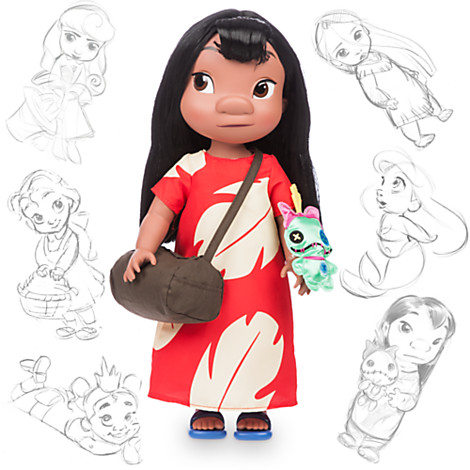 The Animators' Collection from Disney has been a popular line of dolls and interactive plush characters. The dolls depict some favorite characters as they were as children, and in Lilo's case, a little younger child. The line first began with the Disney Princesses, and then expanded to Tinker Bell. Then joining Anna and Elsa was Kristoff and then Aladdin became the second male in the series. Besides the dolls, the line added several interactive plush toys. The latest and greatest to join the Animators' line are Lilo and Interactive Stitch.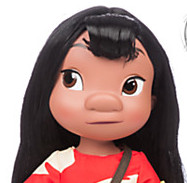 Lilo is truly irresistible. Just looking at her will put a grin on anyone's face. She comes dressed in her traditional red dress. Her carryall bag is slung across her body and she holds a small satin Scrump. She has a cute expression of whimsy and innocence, with a touch of mischief. The little Hawaiian girl stands 16 inches high with movable arms and legs. While her legs move so she can sit on a shelf or bed.
Byron Howard designed this doll for the collection. Howard has worked on character design and animation for several Disney films, including the 2002 movie Lilo and Stitch. He also worked on Mulan and Brother Bear, among others.
Lilo is a doll for playing with or for displaying. She's great for little kids to hug as well as collectors to exhibit. The Animators' Collection Lilo is for ages 3 and up. She sells for $24.95.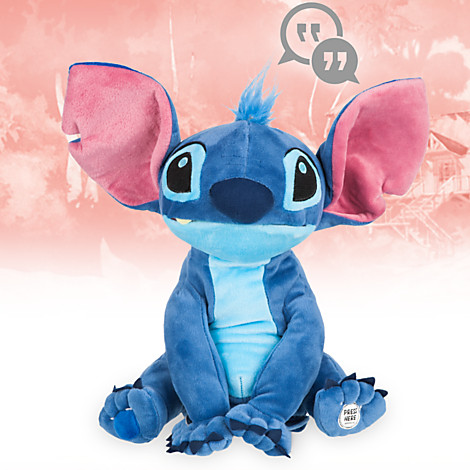 The newest Interactive Plush from the Animators' Collection is Stitch. He is definitely a mischievous little fellow who will have everyone chuckling as he talks and moves. Just press the button on his foot and he says several words and phrases. Stitch explains the meaning of "Ohana" and tells you that you are his Ohana. He also talks about his badness level and how loud he can be. Stitch responds to your voice when you talk to him and he has an on/off switch for times you want to, well, shut him up. And when he hasn't been talked to in awhile, he will shut himself off. Stitch reacts to your voice, and responds specifically to five words and phrases (Hello, Punch Buggy, What does Ohana mean? Naughty Stitch. I'm not touching you.) He's a fun little fellow for young and old and will put a smile on everyone's face.
Stitch shrugs and makes small movements while talking, which adds to his cuteness level! He is huggable for ages 2 and up. He sits 11 inches high and includes 3 AAA batteries. Stitch sells for $34.95.
Each of these toys comes in a box worthy of displaying, with character sketches covering the sides. Stitch can sit on his own. If you want to put Lilo on a stand, the Kaiser Doll Stand #2601 fits her perfectly.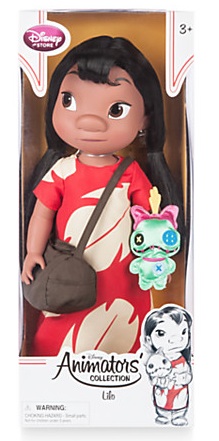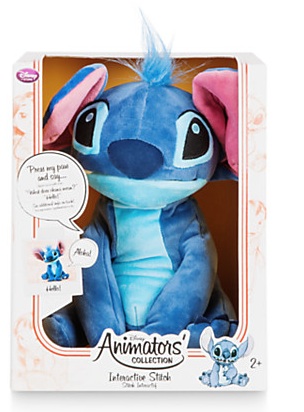 Bring Aloha into your home with the new Animators' Collection Lilo and Interactive Stitch. They are sold separately but make a great pair.
About the Reviewer
Francine Brokaw writes about products, travel, and entertainment. She has been published in national and international newspapers and magazines as well as Internet websites. She has written her own book, Beyond the Red Carpet The World of Entertainment Journalists, from Sourced Media Books.
Follow her on Twitter