DK Spaceship Laser Tag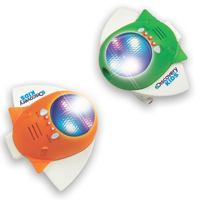 Dual Laser Tag is a laser tag game that can be played indoors or outdoors. Playing in arenas with glow in the dark lights and obstacles is recommended for more fun. The lasers are unique spaceships that have a convenient handheld grip. This spaceship laser tag game is fun, interactive, and most of all – safe. It doesn't involve direct contact, as the lasers are infrared beams. The spaceships emit sounds and vibrations with each direct hit to keep track of who is winning.
Available at www.nkok.com and retailers nationwide.