Ecoprincess Bathtime Set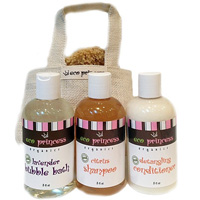 Created by a mom who got fed up with all the highly toxic kids' bathtime products, the Ecoprincess Bathtime Gift Set includes a citrus shampoo, detangling conditioner and lavender bubble bath in an eco friendly, reusable bag. A natural sea sponge completes this princess worthy gift set.
Citrus Shampoo: Deep cleansing yet extremely gentle and made with soothing ingredients including olive leaf extract, sweet almond protein, and essential oils of grapefruit, vanilla, blood orange, and tangerine.
Detangling Conditioner: Gently conditions and separates tables. A citrus essential oil blend leaves hair silky, soft, and shining.
Lavender Bubble Bath: 100% natural bubble bath made of almost entirely organic ingredients and contains NO toxic or skin harming ingredients. Ideal for all types of skin, even the most sensitive.
Sulfate free, Paraben free, Phthalate free, Vegan, Cruelty free, Toxin free, and made from organic, sustainably sourced ingredients. You can't get much more natural than that!