Everyday Love - Art by Nidhi Chanani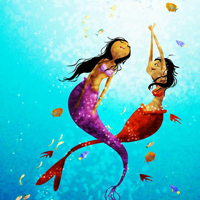 Everyday Love, the line of original illustrations and prints by artist Nidhi Chanani, celebrates the simple pleasures of everyday life and love! With her vast collection of illustrations, greeting cards and prints, each design signifies life's treasured moments that are both heartwarming and joyful.
Perfect for any room of the home from a nursery to a living room, the natural beauty and casual elegance of Nidhi Chanani's original scenic wall coverings and paintings enhance any setting they are displayed within. Drawing from memory, nature and fantasy, Chanani is both an artist and a storyteller.
Everyday Love, which includes a line of prints that can be purchased in three different sizes, greeting cards which are all printed on fine linen paper and a line of limited edition prints, all make wonderful keepsakes.
The idea behind Nidhi Chanani and Everyday Love is quite simple–to create art that makes others happy!