Fingerprint Play, Get Rocky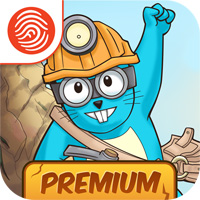 Get Rocky is an exciting tilt and slide adventure to the center of the Earth! Digger, a mole, father and intrepid explorer travels to the center of the Earth in search of his son, Rocky, a young mole with a knack for getting into trouble. Digger slides and spins through 6 layers of the Earth. Each filled with rocks and minerals to collect and subterranean enemies to defeat.
18 comic-book movies tell the mole story and help orient players with facts about Location. Depth and Geology. Digger can gather an interactive rock collection along the way to tap and explore at any time and as the journey gets deeper, he must acquire tools to blast through new levels.
Get Rocky is a geology-packed quest that plunges players into an underground world gleaming with rocks, minerals and scientific facts kids can really dig!
KEY FEATURES:
*30 gorgeously animated game levels and 6 layers of geologic learning in the race to find Rocky;
*18 Get Rocky comic book movies with real science facts about the journey,
*12 key rocks and minerals to collect for the Get Rocky Collection,
*20 subterranean enemies to defeat, including centipedes, goblins and magma men,
*15 power-ups, boosts, and upgrades to earn or purchase. Including the Laser, Jackhammer and the Dino Suit.