Glide Bikes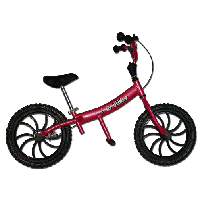 Teaching young kids to ride a bike with training wheels is a thing of the past. Introducing the glide bike – a perfect push bike for kids. Glide bikes are small balance bikes without the usual "bike" features. They have no pedals, no gears, no chains, and best of all, no training wheels. And they don't need them! Eliminating these features makes them an excellent training bike for young children or special needs children. Managing pedals is one of the most confusing elements of bike riding for the young child. It often interferes with the more important skills of balance, posture, and steering control. Bike chains and gears are among the leading sources of injury to a young rider and leading cause of crashes. You don't have to worry about that pesky lose shoelace getting caught in the chain ever again! The lack of these features creates a true glide bike, which is the proper tool for bike training young children.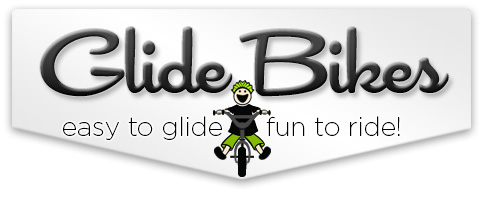 A balance bike works by giving the child a gentle transition from walking to riding. A glider bike is low to the ground, allowing the child to easily touch the ground with both feet at any time. This gives the child maximum control and will keep them from panicking when they feel like they can't touch the ground. This will lead to greater feelings of confidence and a much accelerated learning curve. The child propels the bike very much like walking and can simply lift their feet to practice balance and steering skills. It is also much easier for a balance bike to be adult propelled. This push bike for kids allows them to place their feet on the low foot bar so the adult can give them a gentle head-start push.
Glide Bikes – Balance bikes have low speed downhill geometry of just 2 mph (patented). They are also very light at just 8 or 10 pounds, so they are easy for a young child to manipulate. Riders as young as eighteen months can begin their bike riding adventures easily and safely with glide bike.