Good Cheap Eats:
Everyday Dinners and Fantastic Feasts for $10 or Less
| | |
| --- | --- |
| Ages: | 10+ Yrs |
| Price: | $16.95 |
| Website: | Amazon.com |
| Year: | 2014 |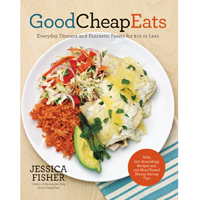 In over 200 recipes, Jessica Fisher shows budget-conscious cooks how they can eat remarkably well without breaking the bank. Good Cheap Eats serves up 70 multi-course dinners–main dish, side dishes, and add-ons such as bread or dessert–all for less than ten dollars for a family of four. Chapters include "Something Meatier," on traditional meat-centered dinners, "Stretching It," which shows how to flavor and accent meat so that you are using less than usual but still getting lots of flavor, and "Company Dinners," which proves that you can entertain well on the cheap. The hard-won wisdom, creative problem-solving techniques, and culinary imagination Fisher brings to the task have been chronicled lovingly in her widely read blog Good Cheap Eats. Now, with the publication of the book Good Cheap Eats, she shows budget-challenged, or simply penny-pinching, home cooks how they can save loads of money on food and still eat smashingly well.