Gratitude Attitude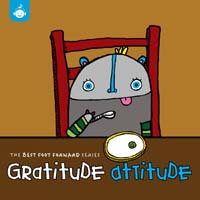 Gratitude Attitude is a compilation CD, part of the "Best Foot Forward" series of CDs, from Recess Music.
The aim of Recess Music's "Best Foot Forward" series is to entertain while educating children and to provide families with a springboard for dialogue that explores ways of being that play a vital role in coping with life. The music on Gratitude Attitude was chosen with an eye to helping children understand that their attitudes are just as important as their actions in bringing harmony and understanding to their classrooms, neighborhoods, and homes. The album's 15 tracks showcase contributions by some of today's most gifted kids' musicians, including Bill Harley, Cathy Fink, Red Grammer, Nick Cope, and Debbie and Friends.
Available now at www.recessmusic.com.  As of August 27, also available at Amazon.com and its international affiliates, BarnesandNoble.com, iTunes, and brick and mortar retailers throughout the U.S.