Green Golly & Her Golden Flute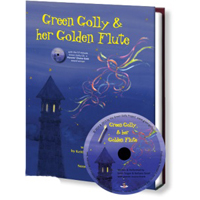 Green Golly & her Golden Flute is a beautiful new picture book with audio. Written and performed by Keith Torgan and Barbara Siesel. Green Golly & Her Golden Flute introduces children to the magic of classical music via a whimsical re-working of the traditional tale of Rapunzel. A keen observer of all that whizzes by her tower window, Green Golly is inclined to rely on her musical abilities to help unravel the mysteries of life in the funny, engaging tale of romance and rescue, interwoven with works of Mozart, Mendelssohn, Schubert, Gossec, Elgar, Bizet, Chopin and Copland.
Suzanne Langelier-Lebeda's charming illustrations partner beautifully with the book's text, narration, and music to create a work that has unity, contrast and a lively flow of energy from one page to another striking a health balance between classical children's illustration and modern graphic novel. The audio component of Green Golly & Her Golden Flute is in two parts. The first section is an entertaining narrative reminiscent of the radio dramas of the 1940's with musical selections. The second part of the audio component follow the presentation of Green Golly & Her Golden Flute and consists of a splendid flute recital by Barbara Siesel, accompanied by pianist Jessica Krash. In this section young listeners have an opportunity to explore, in greater depth, the context that supports the composers' original conceptions of their music.