Itty Bitty City's - Magnetic Wooden Blocks (30 pcs)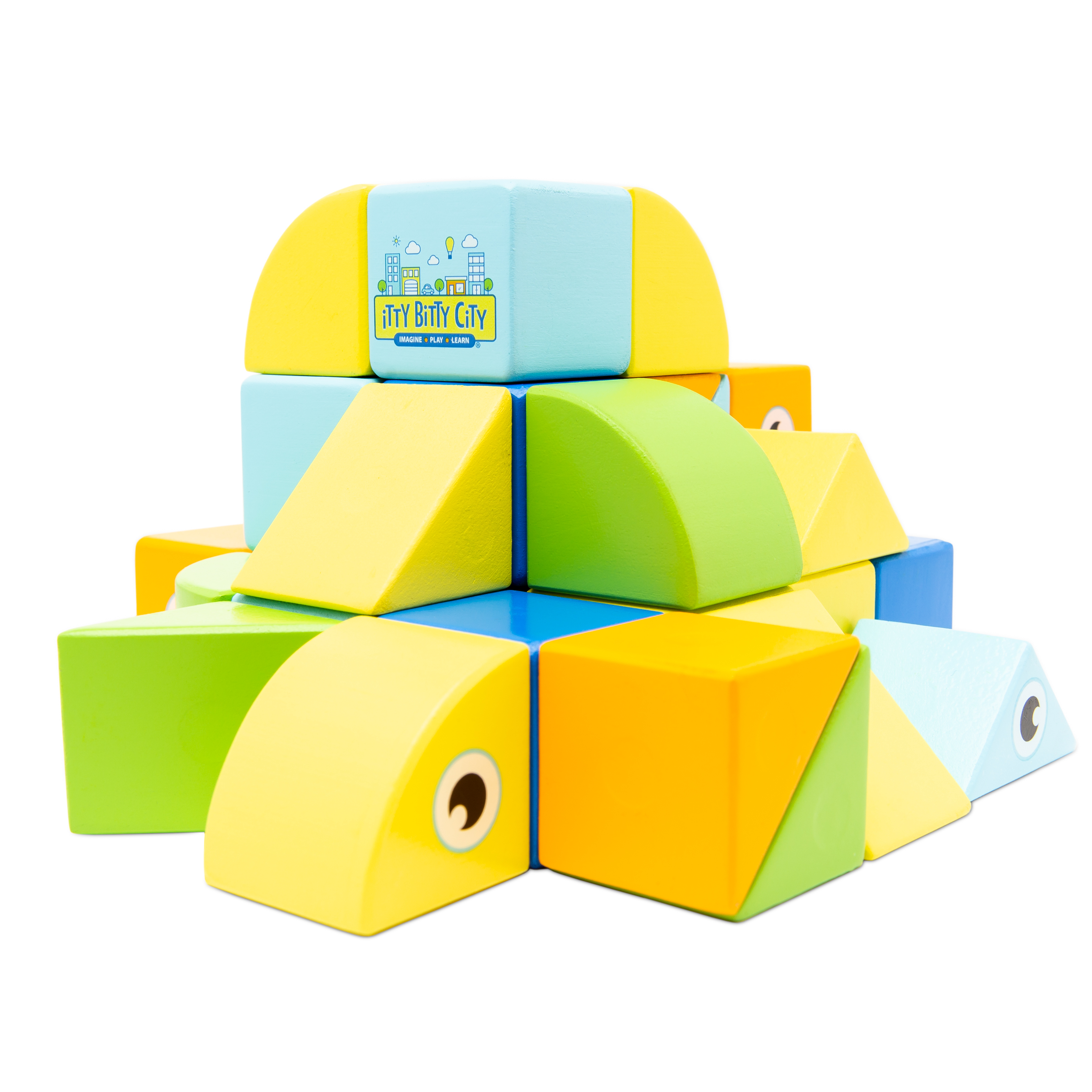 Itty Bitty City, a creative play center for children, has researched and developed a STEAM and Montessori-friendly educational construction toy for toddlers – Magnetic Wooden Blocks. These unique wooden blocks have built-in magnetic properties that are not limited by balance or the north/south polarity of conventional magnets (patent pending). Magnetic Wooden Blocks enable young minds to think outside the box by adding a new level of creativity and exploration.
Research shows that young learners develop socially, physically, intellectually, and creatively by playing with blocks. The 30 piece set (MSRP: $49.99) of Magnetic Wooden Blocks gives Itty Bitties (aka Toddlers) all the tools they need to let their imaginations explore! Packed with cubes, triangles, and quarter circle shapes, this set builds great structures, patterns, and even creative creatures, as five of the blocks have eyes. The six piece set (MSRP: $19.99) of Magnetic Wooden Blocks is a perfect start for the youngest Itty Bitties, and for on-the-go fun. One side of the blocks can be assembled to make a cat face, and the opposite side makes a dog. Of course, the blocks can be mixed into many other unique creations as well! Each block is crafted from wood with magnets built on the inside, so the blocks have all the warmth and heft of a wooden block with the added gravity-defying science of magnets, and are safe for everyone to enjoy. The Magnetic Wooden Blocks are strong enough to hold the most creative designs, but they won't pinch your Itty Bitty's fingers.
Itty Bitty City is a creative play center designed for children ages 8 and younger. Play is often regarded as "children's work" because it is so important for healthy development. It is how children develop their imagination, dexterity, and physical, cognitive, and emotional strength. Play also offers an ideal opportunity for parents to engage fully with their children. Creative play, specifically, includes role-playing and imaginative play as well as any type of play that includes using familiar materials in new or unique ways. Itty Bitty City embraces these concepts through its Imagine-Play-Learn philosophy. www.IttyBitty.City
Fawn & Craig Rechkemmer created Itty Bitty City from scratch & invented their Magnetic Wooden Blocks themselves. Itty Bitty City is not a franchise – it is a family owned business.
Available at: Amazon.com – https://www.amazon.com/dp/B07DWGMBBJ Or in Itty Bitty City's gift shop (Springfield, MO)