John Deere Gear Force Harvest Action Combine Harvest Playset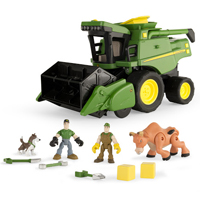 In 2014, John Deere introduces a brand new and exciting addition to its toy line: Gear Force action-packed toy vehicles that offer endless farm and off-road excitement, made especially for the preschool crowd. Each Gear Force set is a complete adventure in a box, and is available in an assortment of vehicles, poseable and articulated character figures and animals, and themed accessories.
The ultimate Gear Force vehicle, the John Deere Harvest Action Combine has the ability to pick up the included corn cubes and 'pop' them out of the hopper! Other features includes lights, sounds, and opening side panels. Includes two articulated figures, a bull, and tons of accessories. Gear up with Gear Force!