Kericure
Natural Seal Invisible Bandage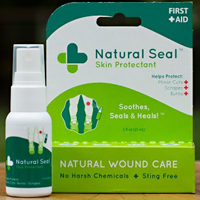 Natural Seal is the first natural, safe and effective invisible bandage that provides exceptional protection against dirt and germs while hydrating the skin/wound for minimal scarring and faster healing!
Created by PhD Organic Chemist, Dr. Kerriann Greenhalgh (a wife, mom, and owner of four rescue dogs), KeriCure's exclusive formula provides a comfortable, hypoallergenic barrier against infections that also soothes itching and eliminates rashes and irritations, including diaper rash! Our products provide a hypoallergenic alternative to traditional bandages and diaper rash remedies. No more gross bandages; better than a liquid bandage. Natural Seal – Healing the way Nature Intended.
$9.99 for On the Go,  $11.99 for 1oz bottle
Available at KeriCure.com/shop, Amazon, Publix, Krogers,  and Price Choppers.