Kevel – Zipper Helper for Men and Women
Have you ever had a zipper slip down or had your waistband shrink a little so the zipper in your pants doesn't close? Or perhaps you put on a few pounds and the waist is a bit snug. Well, instead of discarding your pants or skirt, try a Kevel.
What exactly is a Kevel? It's a little device that hooks onto your zipper. One part hooks onto the zipper pull and the other goes around the button section at the top of your waistband. When the zipper is secured, it stays up. So if your waistband doesn't close the zipper will still keep your garment safely closed and you won't have any surprises with it opening up.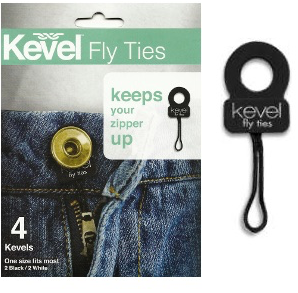 There are three types of Kevels. The Perfect Fit was created for tight pants. Instead of letting out the waistband and spending money for an alteration, keep your pants and use a Kevel. It adds a little room to your waistband making it a little more comfortable.

For zippers that often slide down without your knowledge, there is the Fly Tie. Zippers often don't stay up when they're supposed to. Have you ever looked down and seen your zipper has slid half way down? Well, that won't happen with this Kevel. It keeps the zipper up and secure.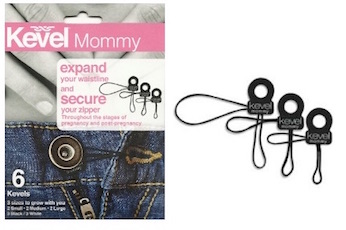 And for expectant mothers, the Kevel Mommy helps expand pants, skirts, and shorts in the early stages of pregnancy. This will add a little extra room and save on purchasing new clothes until your body really needs that additional maternity size. Plus, after the baby is born we don't get our pre-pregnancy figure back immediately. With the Kevel Mommy you can return to your pre-maternity clothes earlier than without it.
The Kevel is an idea that is simple yet never been done before. It makes sense. Jeans are expensive and they shrink after washing. Now you don't have to scream when you put on your favorite pair and find it is uncomfortable to close. Add a Kevel and you're set. Kevel can be used by men and women.
Kevels are easy to attach. They were "created out of necessity" by Rachel Kearl who wanted a solution for a "faulty fly." It took just a little ingenuity to create this handy and practical little device. It just goes to show, where there's a will there's a way.
About the Reviewer
Francine Brokaw writes about products, travel, and entertainment. She has been published in national and international newspapers and magazines as well as Internet websites. She has written her own book, Beyond the Red Carpet The World of Entertainment Journalists, from Sourced Media Books.
Follow her on Twitter