Luciana Vega™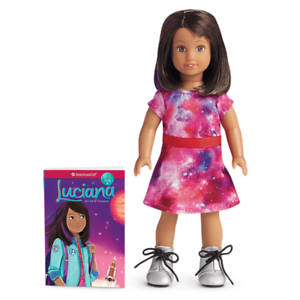 Luciana Vega, the 2018 Girl of the Year, is a creative, confident 11-year-old girl and aspiring astronaut who dreams of being the first person to go to Mars. In her story, Luciana knows she has the skills and smarts to become an astronaut and reach Mars one day. But she also learns that being a good leader and team player right here on Earth is the best first step to achieving her goal.
The 18-inch Luciana doll has medium skin, warm brown eyes, and dark brown hair with a distinctive purple streak to show off her creative side. Luciana arrives in a cosmic print dress with attached vibrant red purse that she wears to Space Camp, a shiny holographic choker and special red charm necklace, and a pair of holographic lace-up boots. Also included is the Luciana paperback book by Erin Teagan.
Available at americangirl.com and at our American Girl retail stores nationwide.