Numi Organic Tea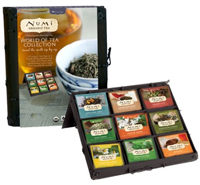 Need some inspiration to kick start your holiday shopping? It's never too early to start, and this year Numi Organic Tea has got you covered with their brand new tea gift set: the World of Tea Collection. Celebrate people, planet and pure tea this holiday season with an array of flavors that will take your friends, family or co-workers on a journey of tea types and the history of their origin within different cultures.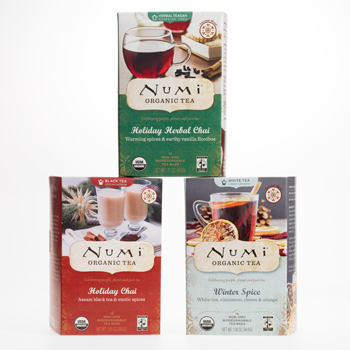 Packaged in a stylish, sustainable handcrafted bamboo box, the World of Tea Collection makes an unforgettable gift for any tea lover, foodie or culinary explorer. Each box contains fives bags of the following nine organic tea blends (45 tea bags total!), representing iconic tastes from around the world:


· Aged Earl Grey – Italy
· Breakfast Blend – England
· Golden Chai – India
· Mate Lemon Green – Brazil
· Jasmine Green – China
· Gunpowder Green – Taiwan
· Rooibos – South Africa
· Moroccan Mint – Morocco
· Chamomile Lemon – Egypt

The World of Tea Collection (SRP: $29.99) will become available beginning October 2013 at Numitea.com, Amazon.com and select Costco stores.
Alternately, if you're looking for smaller items/stocking stuffers, Numi's holiday teas have got you covered! This holiday tea selection features Numi's premium quality teas blended and balanced with festive ingredients. Flavors include:
Holiday Chai –A traditional Indian treasure, this tea blends organic hearty Assam black tea with organic cinnamon, cardamom, anise and gainer for a rich and spicy tea. Delicious with a touch of milk!
Holiday Herbal Chai – This caffeine-free tea blends Chai and Rooibos with cloves, nutmeg, cinnamon, a touch of sweet allspice, ginger, and a kiss of cardamom. Also tasty with milk!
Winter Spice – This sublime white tea includes real orange peel, schizandra berries, and lemongrass, which balances the complex citrus notes with luxurious spice. All make for the most divine cup.