Pacha's Pajamas: A Story Written By Nature, Vol. 1 & 2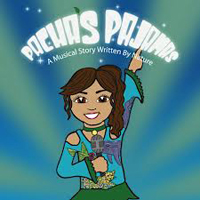 The double album has 28 tracks and features 70 artists spanning four generations including Mos Def, Cheech Marin, Les Nublans, Talib Kweli, Agape Youth Choir and 20 young artists. Magical pajamas whisk Pacha away to imaginary worlds where she has wild and comedic adventures with the characters on her PJs.
In this first story of the series, Pacha journeys to an epic music festival in the jungle organized for (and by) plants and animals. The animals' experiences convey clues about the state of their habitat and the impact of human activities. Through this dream experience, Pacha falls in love with nature, realizes she is part of nature and that she has all that she needs within herself.