Paper Box Racers - Box Racecar Stickers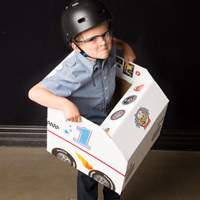 Hey, wanna race?!
Your kiddo will zoom around the track in their spectacular looking race car that they design themselves.
Our activity kit includes:
-Three 11″ x 12″ sheets of stickers your child will use to customize their own box race car.
-The stickers are printed on high quality card stock. Simple to peel, will not easily tear and can be repositioned with little fingers!
-A cutout steering wheel to race to the finish with.
-A "DIY Blueprint" tutorial to help easily make an awesome looking race car from any old cardboard box!