PK Baby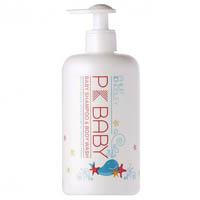 PK Baby is an ultra mild shampoo and body wash for daily use. Created specifically for infants and children, its easy rinse formula contains Chamomile extract to soothe the scalp and Amaranth protein to gently moisturize both the skin and hair.
PK Baby is colourless, has a non-allergenic fragrance and is paraben, SLS & SLES free. Using a number of extremely mild cleansing agents, PK Baby has a unique silky texture designed to remain on the hair during use, with less likelihood of running into eyes.
Easy to rinse, the formula also contains mild conditioning agents to enable trouble free combing in all stages of baby, toddler and children's hair.
It can also be used as a body wash or mild bubble bath. Sulphate free.