Quiddler Junior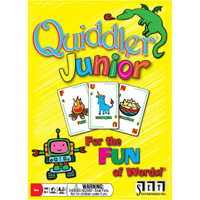 QUIDDLER® JUNIOR is a word game designed for kids and yet entertaining for the whole family. Every card contains a kid-sized word and colorful picture making it fun to play and learn. Point chips give kids an instant reward and make scoring easy.

For the FUN of words!®
Each round the number of cards dealt increases offering a wider variety of word choices. The challenge is to arrange your entire hand into one or more words. Be the first to go out, then watch the others scramble as they have one last chance to make words of their own. Earn bonus points for playing the longest word in a round. Wordsmiths and early readers alike love this game.