Reusable Cloth Gift Bags
A win-win-win!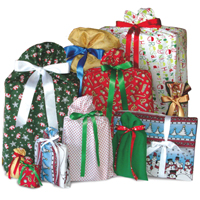 What if there were a solution to three of today's biggest problems—global poverty, environmental waste, and over-scheduled families? And what if it were a reusable, cloth gift bag?
That's the simple—yet impactful—approach being taken by EAGL, (Economic Advancement at the Grass-root Level). We spoke with EAGL founder, Christine Ryan-Schmierer.
How did EAGL come about?
I'm from a big family. One Christmas, my mom sewed cloth gift bags to use instead of paper. Her holidays became much easier, and she used the same bags year after year. As a busy mom and now grandmother, I've often done the same thing. Over the years, I've also become acutely aware of the plight of impoverished women around the world. During a trip to Jamaica, I learned the willingness is there, but the opportunities are not. When Internet sales became available, I started connecting the dots. What these women needed was a cottage industry product, and I knew just the thing. Cloth gift bags.
Is there a reason your seamstresses are all women?
For women, empowerment often comes with financial security. I believe that projects like EAGL can give women a voice in their own communities. Studies show that when women control the money, a greater percentage goes toward family and community. In this way, EAGL is not only helping individual women, but entire villages.
Why fabric gift bags?
There are so many benefits. First, the bags can be made at home in minimal circumstances—ideal for women in impoverished areas. Second, most wrapping paper is non-recyclable. In fact, Americans generate five million tons of waste during the holidays alone. Reusable cloth bags help us take better care of our environment. And finally, EAGL gives busy parents an environmentally sound way to save time and money. No tape, no cutting of paper. Every bag has a ribbon and tag too. They're so easy.
To check out the EAGL story or to purchase these unique gift bags, visit eaglgiftbags.com. Christine believes that everyone who buys a bag helps heal needy communities, the environment, and our own busy schedules. Now that's what we call a win-win-win