Singing Cupcakes LoveeDoll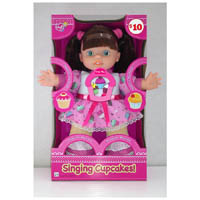 "Singing Cupcakes" is an electronic singing cupcake doll with five activation points, Activation by pressing chest, both hands and feet. Each song tells a different cupcake story that is fun to listen to. Perfect for children of 2 years and older.
"Singing Cupcakes" is available in Caucasian and African American.
Available at major retailers or www.LoveeDoll.com