Songs and Games for Toddlers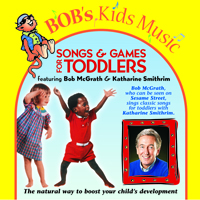 "Bob from Sesame Street" is known to three generations of Sesame Street viewers as an original host and music teacher on the show for forty five years!  McGrath will be taping his forty-fifth season in 2014.
This classic CD, used in homes and early childhood schools throughout the nation, is a great way to help toddlers gain confidence in physical skills , the use of language, and pre-reading skills, as well as aiding in social interaction and self esteem.  All are enhanced as children discover the joys of making music themselves.These activities are also a perfect way to boost your child's development with lifelong benefits.
Available at Amazon, Allegro Media Group, iTunes, eMusic, Rhapsody, Napster, www.bobmcgrath.com