Super Special Holiday Gifts for Kids from Nickelodeon and Disney
If you're looking for something extra special this holiday for a girl or boy who is definitely on the "nice" list, here are some suggestions.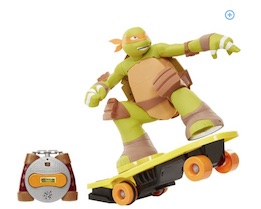 Teenage Mutant Ninja Turtles Remote Control Skateboarding Mikey is really cool. I had the chance to test him at the Nickelodeon Holiday Gift Showcase for Media. Remotely controlled, this fellow moves around and manages to right himself if he tips over. Adults were enjoying this toy right along with some of the youngsters who were there.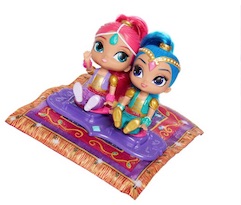 Also presented at the showcase was the Shimmer and Shine Magical Flying Carpet ($34.99). This was my pick of the day. Shimmer and Shine sit on their magic carpet which can "fly" on the floor and when picked up and flown through the air, the girls react to the ride, talk, and say things like "wee" when it zooms through the air. Fans of the Nickelodeon show and these colorful genies will love this product.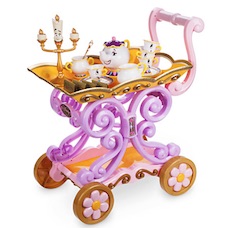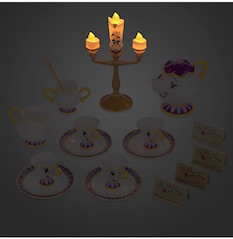 A new "Singing" Beauty and the Beast Tea Cart ($49.95) comes with Mrs. Potts, Chip, and 3 other cups and saucers, a creamer and sugar bowl, spoons, place cards, plus a light-up Lumiere. This year tea parties have been taken to a new level with this rolling cart and all the figures. This will entertain young girls during cold, snowy winter days.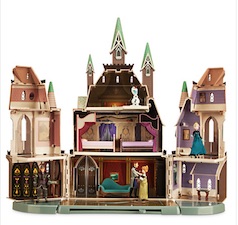 The Arendelle Castle ($99.95) represents all the delight of Frozen. Open it up for the bedroom and cozy living room for hours of fun replaying scenes from the film. There is a sliding "floor" to make the characters "dance." Included in this set are Anna, Elsa, Olaf, Kristoff, and Hans.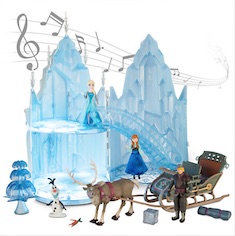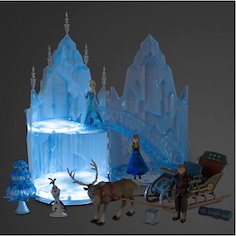 Elsa's Musical Ice Castle Play Set ($59.95) includes not only the beautiful ice castle but also Elsa, Anna, Olaf, Sven, Kristoff, and his sleigh. Plus, it lights up to show the beauty of the ice palace. And the piece de resistance for this set is it plays the song "Let it Go."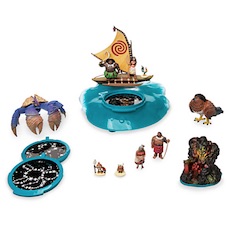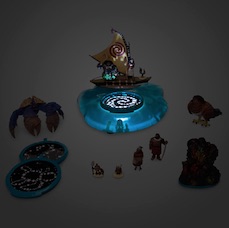 The Moana Projection Boat Playset ($34.95) includes everything young explorers need to set sail on the high seas. Moana, Maui, hawk, crab, 2 kakamora, Heihei, and more are ready to catch a ride on the outrigger which can be placed on a special base that plays "We Know the Way" from the movie. There are three star projector slides that light up and project stars to navigate through the vast ocean. This is something boys and girls can both enjoy.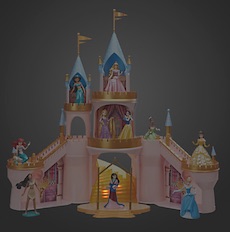 The Princess Light Up Castle Play Set ($89.95) will enchant every Disney Princess fan. Not only does this castle have a magical light up spiral staircase, but it also comes with Cinderella, Snow White, Aurora, Belle, Ariel, Jasmine, Pocahontas, Mulan, Rapunzel, and Tiana. There are plenty of places for the entire group who are dressed in their representative clothing.

The newest Animators' Collection Mini Doll Gift Set ($119.95) is similar to last year's set with 15 mini animator dolls. This year's collection includes Pocahontas, Tinker Bell, Snow White, Cinderella, Belle, Jasmine, Aladddin, Alice, Lilo, Rapunzel, Ariel, Kristoff, Anna, Elsa, and Tiana. As it did last year, this gift set comes in a beautiful box that when closed includes sketches of the characters. It's just as pretty closed as opened. This is something adults as well as kids will appreciate.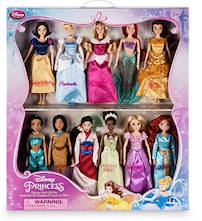 Disney Classic Doll Collection Gift Set ($119.95) comes with 11 12-inch princesses: Snow White, Cinderella, Aurora, Ariel, Belle, Jasmine, Pocahontas, Mulan, Tiana, Rapunzel, and Merida. This set represents the grown-up princesses whereas the Animators' set represents the child version of the characters. Plus this set does not include a special display box.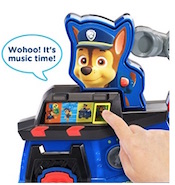 PAW Patrol Chase on the Case Cruiser by Vtech ($24.99) has sounds and Chase's voice as kids help him rescue animals. Insert one of the 20 blocks to learn about shapes, numbers, and other things. This is really a cute little learning toy and who can't resist this adorable little fellow? It's an entertaining way to learn about numbers, animals, and caring while having fun the whole time.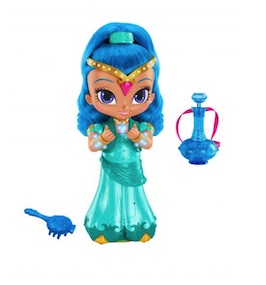 Shimmer and Shine Wish & Spin Dolls ($44.99 each) can talk, spin, and generally entertain youngsters. They react to clapping hands and each comes with a genie bottle and hairbrush. They are filled with magic and plenty of enjoyment for girls.